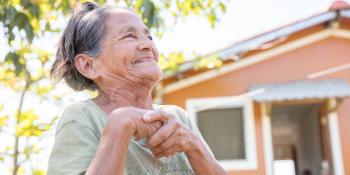 Housing policy improves land access for Honduran families
Estella's story
As a young woman, Estella played guitar in her father's Latin pop band. Now 83 and wearing her long, silver hair in a messy bun, she dances around her kitchen in Puerto Cortés, Honduras, singing lyrics from back in those days. "I am happy again," she says.
Estella has had many good times during her eight decades. She also has had her share of very difficult stretches. Most recently, she and her 23-year-old grandson, Manuel, had been living near the Caribbean coast, in a shack made of scrap materials. Their home had electricity but no bathroom.
During the heavy rains common to this area, Estella and Manuel hurried around as the structure flooded, hoisting food and beds on cinderblocks to keep them from getting soaked. Sometimes, the wind picked up and flipped the flimsy roof inside out, and everything got ruined.
Estella now welcomes the storms. She and her grandson live inland, in a new Habitat house. Although the time it took to build the two-bedroom house was relatively quick, the life-changing development represents years of advocacy efforts and collaboration between Habitat Honduras, other community stakeholders and city officials.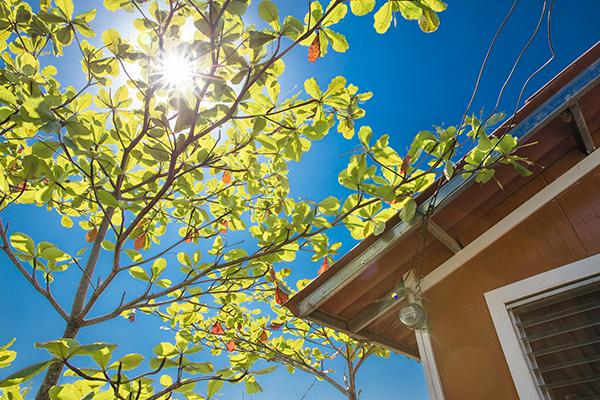 Puerto Cortés was among the first cities in Honduras to work with Habitat Honduras and other partners to adopt a housing policy aimed at helping citizens gain access to land and safe, affordable homes. "These alliances help us to develop our projects with a better perspective and give us more credibility with the citizens," says Trinidad Villatoro Bonilla, director of the city's social housing department.
To keep homes affordable for families, the city might acquire the land, offer financial assistance, waive building permit fees, contribute construction materials and labor, put in roads, or provide access to water and other services. It also enters into agreements with Habitat, other nonprofits and private businesses.
The city currently is in the process of updating its housing policy with a committee headed up by Habitat Honduras. "We are seeking to improve the policy, to make it more detailed, so it can better reach the most vulnerable citizens," Bonilla says.
For instance, the new policy will give single mothers first priority for affordable housing opportunities. "When they have access to housing, they can keep their families together," Bonilla says. The policy also prioritizes families living in unsafe areas, whether that's in neighborhoods with high rates of crime and gang activity or in places susceptible to flooding and other natural disasters
The city acquired the land that Habitat and other builders are developing with affordable housing. Estella, a small, fit woman, covers part of the mortgage with the money she earns as the caregiver of a 104-year-old gentleman. Manuel, who is a fisherman, contributes with the money he gets selling the catch that he brings in each day from the sea.
"This family was living in precarious circumstances and now, thankfully, because of the willingness of the city to address the housing crisis, they own their own home," says Alberto Benítez Salem, executive director of Habitat Honduras. "This is an example of what local governments, citizens, private businesses and Habitat can do when we all work together."
When she isn't dancing, Estella is decorating her new home with flowers and peacock feathers. "I am so tranquil here," she says. After a long day fishing, Manuel most looks forward to sleeping in a house where he doesn't have to think about water. "It is so good to have a good roof," he says.
So many families in Honduras — and around the world — face the same challenges that Estella is now overcoming. Your generous support is crucial to helping them gain access to the solutions they so desperately need. Join Habitat's Solid Ground campaign to learn more about this important work and take action today!