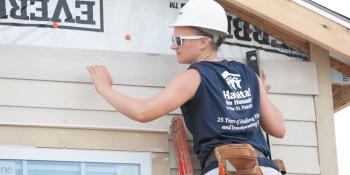 How does Habitat's Build-a-Thon make an impact?
I've seen big builds, small builds and everything in between. Habitat for Humanity's annual AmeriCorps Build-a-Thon is one event I've always looked forward to.
Each Build-a-Thon provides unique opportunities and experiences, but all have an incredible sense of community that is palpable to those involved. As a Habitat AmeriCorps member, I helped rebuild Cedar Rapids in 2010 alongside more than 500 serving AmeriCorps members. In Pensacola, Florida, I watched the Blue Angels soar above us as 51 AmeriCorps members built homes, and I was thrilled to return to the U.S. Gulf Coast as an AmeriCorps alum in 2015 to serve as a host site manager during the Katrina 10-year-anniversary Build-a-Thon in New Orleans.
My time with Habitat solidified my desire to serve others and pursue a career in the nonprofit sector. AmeriCorps helped me grow from a newly minted college graduate to a competent professional with coordination, management and program development experience. After two years of service, I accepted a position as volunteer coordinator at St. Vrain Habitat in Longmont, Colorado.
I was serving in that capacity when the historic floods of September 2013 destroyed 220 homes and damaged 1,300 more. I am proud to have been a part of the team that stepped up to help those affected. I knew firsthand the impact that AmeriCorps members can make in a community recovering from disaster, and I knew we needed to recruit AmeriCorps members to help grow our capacity to address our community's increased need for affordable housing.
And we did. With help from AmeriCorps members — some on site, some in our office and ReStore — and partnerships with other organizations, St. Vrain Habitat quadrupled our volunteer capacity and helped repair 21 homes in response to the flood.
As we prepare to be a host site, I couldn't be happier to welcome 60 AmeriCorps members to our community. While national headlines about the floods are long gone, many in our community are still coping with the disaster. Having AmeriCorps members from across the country help repair our community is an important part of the healing process.
Affordable housing has been a growing problem in the St. Vrain Valley community, a situation only exacerbated by the floods. On behalf of St. Vrain Habitat, I thank all of the wonderful AmeriCorps members willing to serve a year in communities around the country — and especially in ours!
— Nicole Stanek, Habitat for Humanity AmeriCorps alum and Habitat St. Vrain Valley neighborhood revitalization manager
Subscribe to our monthly newsletter
Get the latest Habitat news, volunteer opportunities, DIY tips and more ways to get involved.