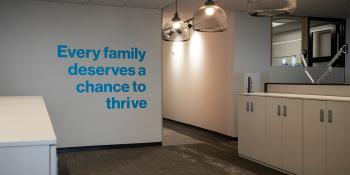 How Habitat is continuing to pursue our mission during COVID-19
During this time of social distancing and COVID-19, Habitat for Humanity is still hard at work, pursuing many avenues to move forward our vision of a world where everyone has a decent place to live.
Our affiliated entities are in the process of resuming work according to the situation in their local communities. Habitat for Humanity International has developed detailed guidance to assist them in their decisions and plans for resumption of operations and programs, including construction activity, ReStore operations and offices.

We have shared with the U.S. Congress recommendations for immediate solutions to inform their conversations and stimulus work. These recommendations, developed with local Habitat input, include mortgage forbearance for families, grants to nonprofits lenders to enable payment forbearance, a national moratorium on foreclosures and evictions, and more. We are encouraging our advocates to continue to engage with local and state governments on similar issues.

Help us by adding your voice now to tell Congress to act for housing stability. The longer this pandemic and its economic shocks continue, the more the current situation also becomes a housing emergency. Even before the current crisis, far too many families already struggled to afford a decent place to live. They are going to need our hand up now more than ever. Call on your senators and representatives to prioritize the needs of low-income families and organizations like Habitat that work hard to serve them.
We have joined with more than 200 national charitable nonprofit organizations to urge U.S. Congressional leaders to include a nonprofit track in any future legislation that builds on the CARES Act. Measures such as expanding nonprofit access to credit, strengthening charitable giving incentives, treating self-funded nonprofits fairly and increasing emergency funding would help ensure that organizations like ours can continue to work tirelessly to serve those hardest hit across the country. Such an approach would recognize the significant role that charitable nonprofits play as the third largest employer in the U.S. economy and as valued problem solvers.

We have joined many peer organizations and InterAction, the largest alliance of international NGOs and partners in the United States, to urge the Appropriations Committees in the U.S. Congress to consider additional funds for USAID's economic support fund, International Disaster Assistance and Migration and Refugee Assistance Fund, USDA for food assistance, ensuring State Department and USAID staff safety, expedited hiring for USAID, transfer of funds within the State Department where necessary, and extending FY20 appropriations to ensure agencies can invest wisely without disruption to facilitate an adequate response.

We have signed onto a letter from the National Council of Nonprofits and a letter from leading U.S. organizations urging Congress to provide relief for nonprofits. The nonprofit community — so important every day — will only be even more crucial in the days to come.
Local Habitat affiliates throughout the United States have donated more than

215,000

masks, respirators and face shields

and nearly 25,000

personal protective

gowns to health care providers. This equipment, normally used by Habitat construction staff and volunteers on build sites, can also be used by medical professionals and patients to prevent the spread of disease and are in short supply for frontline health workers during this crisis.
We have affirmed the the Horasis Declaration, committing to principled leadership in times of disruption. We know all too well that crises in the past have often opened the door to oppression, and we strongly affirm that "facing perhaps the biggest test to humankind and the future of our planet, it will be up to principled government and business leaders to lead society to favourable, democratic resolutions."
Every day, on our social media channels and this website, we celebrate the global community that is Habitat for Humanity. We have known the determination and commitment of families, volunteers and supporters for more than 40 years. This important fuel for our mission feeds us now more than ever. Follow us on Facebook, Twitter, LinkedIn and Instagram. You are sure to be inspired and will learn of additional calls to action.
The future is never promised, although it often can easily feel that way when things are going according to plan. May the turbulence of these days bind us to each other and to our shared mission, which is more important now than it ever has been. Together, we are better. Together, we will get through this. And together, we will build back.