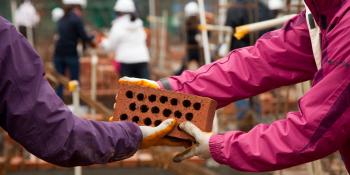 How to pay it forward with Habitat for Humanity
Doing good can feel good, and so can being the beneficiary of a kind deed. When we experience the kindness of someone else, we may be inclined to keep the feeling going by "paying it forward" and performing further acts of selflessness.
Since 2007, April's Pay It Forward Day has aimed to inspire people to help others. "There is tremendous power and positive energy in giving," the event's website states. "Pay It Forward Day is about all people, from all walks of life giving to someone else and making a positive difference."
The idea of paying it forward is a key component of Habitat for Humanity's work. Volunteers give their time building alongside future Habitat homeowners, who in turn, invest their sweat equity helping other families achieve their dream of homeownership. Monthly mortgage payments support Habitat's mission to build even more homes and help even more families.
Many homeowners continue to pay it forward by staying involved with Habitat once they have moved into their house. They become volunteers, building homes, advocating for decent and affordable housing and helping in local Habitat offices.
"This is my calling. This is something that I am able to give back now."
— Mary, River City Habitat homeowner and Habitat ReStore volunteer
Mary, a River City Habitat homeowner who moved into her house in 2012, continues to pay it forward by volunteering in the Habitat ReStore. It is her way of sharing the joy she felt when volunteers helped her build her house. It's been nice "knowing that I was able to help somebody else, another family," she says, "that what I was doing was contributing to the next person coming along."
Working in the ReStore has become a mission for her, Mary says. "This is my calling. This is something that I am able to give back now." She realizes that she is helping people she may never meet. "It makes you want to work that much harder," she says.
Sometimes those paying it forward are the next generation. Steven watched his mother work alongside volunteers to build the Habitat home that provided a solid foundation for him to grow up in. When he was old enough, Steven began working with Habitat through our Learn and Build Experience youth program. Now, when he helps a family build the place that will become their home, he knows that his volunteering could be inspiring another child to volunteer some day. "It's just such an amazing feeling to know I used to be that kid," he says, "and I'm doing what the volunteers did."
Whatever your blessings, whatever your challenges, Habitat provides an excellent way for you to help out someone today. Learn more about how you can get involved today!