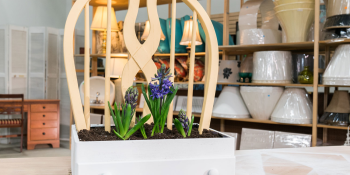 How-to video: DIY unique flower planter with Habitat ReStore materials
A do-it-yourself project doesn't have to be complicated or expensive — just take it from DIY expert Theresa Clement.
She knows how to take advantage of the many gently used materials at Habitat for Humanity ReStores just waiting to be turned into something new. When Theresa spotted a wooden box at Smyrna Habitat ReStore near Atlanta, she saw something she could transform. With a vision in mind, she then selected the chair that would work best for her idea.
Thanks to the Habitat ReStore, some basic handiwork and a spark of creativity, she transformed the wooden box and chair into a unique flower planter.
"I made this little flower box in just a couple of hours," Theresa said.
To give DIY-ers like you an idea of just how simple and quick the project is, Theresa shows you her process in the video below.
Paint the chair and the box with spray paint. Remember to apply a light coat and keep the can moving.
After allowing the paint to dry, cut the back of the chair off of the seat. Theresa used an oscillating tool with a cutting blade for this task.
Line the inside of the box with duct tape. Since the box wasn't made to hold soil, water or plant life, use duct tape to create a barrier.
Screw the back of the chair onto the box. While you are doing this, use a clamp to hold the back of the chair in place.
Fill your newly made planter with soil and add the plant of your choice!
Theresa's project is just one of the many possible. "If you're looking for inspiration for your home, or if you want to do a project like this, head down to your local Habitat ReStore."
Theresa Clement co-hosts the MyFixitUpLife talk show with her husband Mark, who is her partner at work and at home. She is the designer for Food Network's "Save My Bakery," and designed for "Extreme Makeover: Home Edition." She is a licensed contractor, certified color consultant and certified aging-in-place specialist with a focus on Alzheimer's. She is an author of Do-It-Yourself Home Improvement, DIY Quick Fix and Complete Guide to Shelves & Built-Ins. You can get in touch with her on Twitter for any DIY questions you may have!
Head to your local Habitat ReStore.