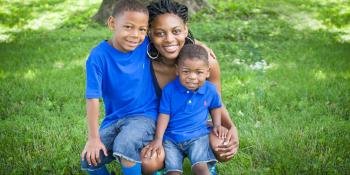 "I feel good that I can do this for my kids"
A Habitat for Humanity house starts with the families who partner with us to build or improve a place they can call home. Families like LaShonda and her two young sons, Kenison and Ramon.
The family previously rented a townhouse. "It was falling apart," LaShonda says. "And the rent was high for a townhome that wasn't in great shape to begin with."
LaShonda works as a family social worker with the state of Missouri. Her Habitat house — and affordable mortgage — gives her boys the stability that LaShonda longed for growing up.
"We rented from place to place with no place to really call our own," she says. "As a kid, I was constantly changing friends, neighborhoods and schools. In my head, I wanted to do things differently for my own kids. I wanted us to own our own house."
LaShonda learned about Habitat from a friend but didn't immediately apply. Then one day, she drove by a Habitat house and finally got up the nerve to call Habitat Kansas City. After learning about the requirements, LaShonda filled out her application and was accepted.
Next, she got started on the hundreds of hours of sweat equity that every future Habitat homeowner puts in, working on their own or other's Habitat houses. LaShonda installed siding, installation and floor joints. "I had friends who pushed me," she says. "Looking back, I am so thankful that they did. They kept telling me to look at the big picture. I was going to have a home."
LaShonda drove by her house on its corner lot every day while it was being built. "We have pictures of when it was just dirt to now," she says. "It is coming together so nice. The boys have such big plans." A basketball goal is on the list.
"When I think of home, I think of love and family," says LaShonda, who celebrated her home dedication in March. "I think of some place to come at the end of the day and talk around the dining room table. This is something I wanted as a kid. I feel good that I can do this for my kids."