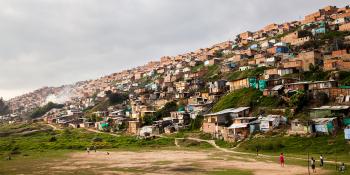 Colombia: Jonathan Reckford reflects on his recent trip
I have been privileged to be a part of five Hope Journey trips, which enable me to travel with members of my own family and other families to various locations to participate firsthand in Habitat for Humanity's work. This time we went to Colombia, and all of us returned feeling that we had been blessed far more than we were able to give.
We began on Father's Day, which was a special treat for us all. We spent the morning on a bicycle tour of Bogota, grateful that we were mostly on flat roads.
On Sunday, we also learned about enormous numbers of families who have been forced into large, informal settlements all around the outskirts of Bogota. The government gives away homes, so Habitat Colombia is focusing on helping families in the settlements upgrade their living conditions and get secure tenure or title to their property.
There are few paved roads and no formal transit up the steep hillsides to the settlements. You encounter lots of wild dogs, trash is strewn around and raw sewage runs in open ditches and flows down to a toxic lake bed.
However, we saw how residents came together for projects like improving roads, accessing water and power, and creating small parks. In these areas, houses were painted, and there was also less trash and a visible sense of pride.
We spent our first build day digging and then mixing and pouring cement for the addition to the home we were working on with Carolina and Jose Ducuaray. They have three children, including 2-month-old Evelin who has respiratory problems. We believe the addition to the house will improve health conditions for the whole family.
On Tuesday, I worked with another family to expand and upgrade the home that mother Rosalbina shares with her two daughters and their three children. Arduous tasks included mixing cement by hand, filling endless buckets and lifting large bricks high onto walls at high altitude.
Daughter Diana, a waitress/hostess, is the key contributor to the family income. Her daughter Maria, 6, has a smile that lights up the room, and 4-year-old son Darwin is a perpetual motion machine. He's lived in a household of women all his life and delighted in the kind of aerobatics I always did with my children.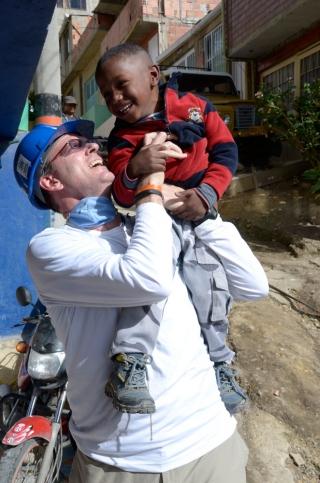 As one of our team members said, "It's expensive to be poor." Families tend to pay more per square foot in rent and get less value for their scarce income. Because no banks will give them loans, they save up to buy a few bricks at a time.
Digging a 2-by-5-meter section of a hill Thursday was some of the hardest physical labor I've ever done. After lunch, I built a wall with the lead mason, who made precise work look so easy. I did have the advantage of completing the upper rows without a scaffold.
Each day, we left the hotel in the cold rain, but it always cleared in time for us to build — and sprinkled just enough to refresh us occasionally. We also saw a large rainbow as we headed back each day. Small moments of grace and gratitude.
On Friday, it was time to say goodbye. It's hard to explain how deep the connection is when you're immersed in a community working alongside people on a common mission. We shared stories and reflections, took pictures and shared many tears and hugs. For Carolina and Rosalbina and their families, their new homes certainly won't solve all their problems; but they will now have a safe, secure place for their families to grow, be healthy and thrive.