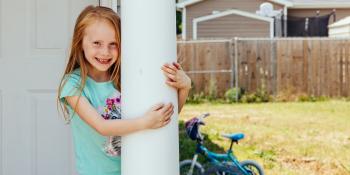 Eating dinner all at the same time is something Ruby and her family still are getting used to. The kitchen in their cramped apartment could fit only two at a time, requiring meals in shifts.
The kitchen in their new Habitat home in Cleveland, Tennessee, is large enough for a round wooden table and six chairs for Ruby, her son William and his four teenage children. It is the place where they talk about the important and the not-so-much.
William, the cook in the family, still is getting used to having a stove that works. "At the last place, you'd turn on the eye, and it would take 15 minutes to heat up. And it wouldn't heat up very high," he says. Now, cooking up his specialties — spaghetti and baked chicken — is a joy. "This stove works great," William says.
Since 1999, Whirlpool Corporation has donated more than 191,000 ranges and refrigerators like the ones in Ruby and William's home to new Habitat homes in the United States and Canada. Whirlpool also has donated products to Habitat ReStores and Habitat families in Europe, the Middle East and Africa, as well as engaging thousands of employee volunteers.
This Tennessee house with brown siding and black shutters offers more than a seat at the table and hot meals. It is a home where everyone has a place to sleep, a yard for playing and growing a garden, a place for a fresh start. "It didn't seem like something this good could happen to us," says 17-year-old Kymberly.
Sweat equity leads to family joy
The family has had its share of rough times. Eight years ago, William was in a car wreck that left him in a coma for two months and unable to work ever since. When he lost his house, he and his children moved in with Ruby in a cramped apartment. He slept on the couch.
Ruby first heard about Habitat from a friend in town. "The children deserve a house and a yard, and William deserves a room," she says. "I wasn't sure I could do what it takes to build our house, but I was going to try."
Habitat's sweat equity requirements seemed daunting but Ruby, who works at a department store fragrance and makeup counter, turned out to be a natural volunteering in the local Habitat ReStore. "I have always worked in retail," Ruby says.
Kymberly and her 16-year-old brother, Dakota, helped out, too. Ruby also became a fixture on the build site. "We ended up doing more hours than were required," she says. "I knew the more we did, the quicker the house would be ready."
Those extra hours meant that Ruby and her family got to celebrate Christmas in their new house. With ham, turkey, mashed potatoes and creamed corn, the oven and all of the eyes on the stove got a workout. "We actually cooked and ate together," Ruby says.
A hand up makes a dream come true
A few houses down, Ruby's neighbor Sheila shows off her new kitchen. Her table has been converted into craft central.
"If it was just me, it wouldn't matter so much where I live," she says, "but I really wanted something better for her."
A radiant 6-year-old with blue eyes, strawberry hair and freckles quietly opens the white refrigerator. It's lunchtime and Jazmine, who prefers to be called Jazzi, likes to do for herself. She can make a mean PB&J. "She's really good at making salads," Sheila adds.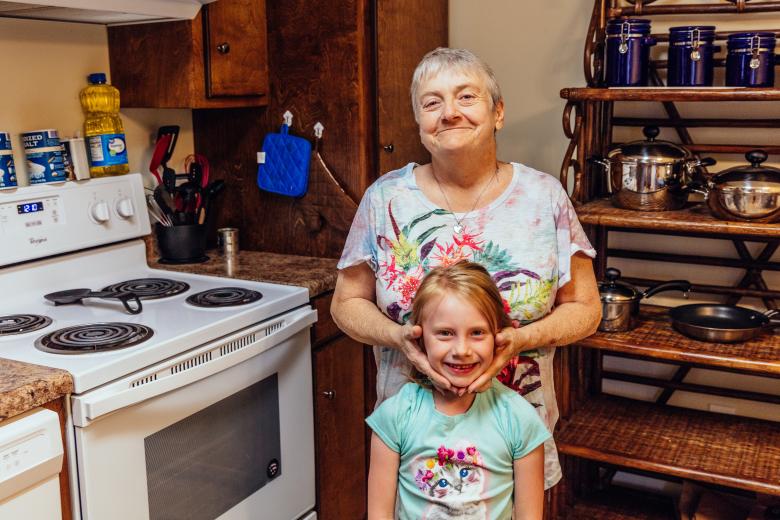 The refrigerator that Jazzi just raided came from Whirlpool as part of their support of Habitat. Sheila works at the Whirlpool call center in town and recalls how some of her co-workers volunteered alongside her to help her build this house. "They wrote Bible verses on the studs," Sheila says. "You can't see them, but I know they are there."
Sheila had long dreamed of building her own home. When she was little, she would spend hours poring over a hardback book of house plans that belonged to her father.
"I loved looking at those plans," she says. Her own plans were put on hold after her late husband became ill shortly after they married. "I kept dreaming of looking at my own house plans someday, but it never happened," she says. "And then it did."
Favorite rooms and good memories
Before moving into their home, Sheila, Jazzi and Jazzi's older sister, Amy, lived in a tiny rental house with a leaky roof and windows that functioned more like windbreakers. The three shared a bed.
A sparkling, fuchsia "J" hangs on the door outside of Jazzi's room. The inside sparkles, too. White lights hang on the metal poster bed, decorated with a floral comforter and Jazzi's favorite possession, a pillow in the shape of a gigantic doughnut.
"She is really happy about her bed and bedroom," Sheila says. "Oh yes!" Jazzi chimes in. "I just love it."
But Jazzi loves Sheila's room most, she says. "I love this room most because it smells like Nana," she says. "I love her because she kisses me and takes care of me."
At night, when all the things that have to be done are done — the dishes, a bath — Sheila climbs into her comfy chair in the living room. Jazzi sits close by with legs crossed on the matching ottoman. The two share a bowl of popcorn and watch a movie.
"This house means home," Sheila says. "It means security. It means a place for making memories. I've literally dreamed of it my whole life."