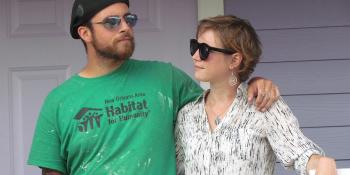 Matt and Valentina moved into their purple Habitat house this past spring and are committed to becoming anchors in their new neighborhood.
The move also gives Matt the opportunity to put down roots in the hometown he loves while continuing to do what he loves, which is making music. "It feels good to be part of the culture of the city and reinforce its musical heritage," says Matt, who plays the saxophone and clarinet with several bands. Currently touring the country, Matt is looking forward to getting home and landscaping the yard.
The couple lives a few minutes from Musicians' Village, a neighborhood dreamed up more than a decade ago by musicians Harry Connick Jr. and Branford Marsalis with New Orleans Area Habitat to support families and preserve the city's musical roots. One of the homeowners in the village suggested that Matt and Valentina attend a Habitat informational meeting.
"I had not entertained the possibility of owning a house because I haven't made all that much money, and we didn't think we could afford one," Matt says. "Once it became a possibility, it was super exciting. We are able to commit and invest in this home and have something for our future. And it is important to have neighborhoods in New Orleans where people know each other and look out for each other."
Valentina, originally from New York City, knows that Matt is where he belongs. "You can't keep a New Orleanian out of New Orleans," says Valentina, who works for a recruiting firm. She was game when Matt suggested they go with the purple exterior. "If there is a city where purple works," she says, "it is New Orleans."
The couple built their home alongside volunteering students. "I got to bond with them, and it was nice to see all these connections take place," Valentina says. "I also got this great experience of saying, 'I built my own house.' I know exactly how good the insulation is."
Donate now
Every donation makes a difference.