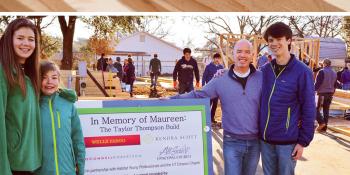 As an architecture student, Maureen Thompson designed a Habitat house that would forever change the lives of dozens of families, including hers.
Doing one thing, no matter how big or small, has the power to change the world, Taylor Thompson says. Take his mom.
As an architecture student, she helped design and build a house with Austin Habitat for Humanity. That one thing inspired her parents to volunteer with their local Habitat, where they have helped build more than 70 homes.
And now Taylor, who is just 17, has raised 85,000 to build a Habitat home, around the corner from the one his mother designed. He is dedicating the house to his mother, who died in October 2014 after a decade-long battle with breast cancer.
"There are so many different ways that our family could have taken the loss," says Taylor, who has two younger sisters.
Because of Taylor, life is changing for Annette Lopez and her 4-year-old daughter, Isabella. Annette is the future homeowner of the house Taylor is sponsoring. The affordable Habitat mortgage gives Annette the opportunity to give Isabella something she didn't have growing up: stability. "When I was raised, we moved around a lot and I went to six different elementary schools," says Annette, a service representative with the state of Texas. "I am so excited for Isabella to grow up somewhere stable."
On Saturdays, Annette and Taylor work alongside each other on the two-story house. "Taylor is such an amazing young man," Annette says. "He is doing something in honor of his mom, something that she loved, that will make our lives better. His story is very touching to me."
"All because of Maureen"
This Habitat story begins in 1996 when Maureen Thompson and several other architecture students at the University of Texas at Austin won a competition to design a Habitat house. Their vision for a U-shaped home maximizes cross-ventilation and airflow, and some of their design elements can be found in other Habitat homes in Austin.
The project intrigued Maureen's parents, Henry and Ann Diercxsens, who had just retired to South Carolina. "I got so interested that I decided on our way back home that we would find out if there was a Habitat where we live," Henry says. He and his wife started building with Hilton Head Regional Habitat, where they also have served on the board. They've lost track of how many homes they have worked on, but more than 70 is a pretty safe bet. The couple has volunteered in other communities, too, through Habitat's Global Village volunteer trips.
These days, Henry is a regular on build sites, and Ann volunteers in the Habitat ReStore and serves on the committee that identifies future homeowners. "Habitat gives people a chance to have their own home and improve their living conditions," Henry says. "People feel very strongly about their commitment to Habitat, and that is the way we feel."
Those feelings have intensified since Maureen's death. The Diercxsens view the homes that they have built — and the families living in those homes — as part of their daughter's legacy. And now their grandson is contributing to that legacy. "Taylor is the third-generation Habitat builder in our family," Henry says, "and that is all because of Maureen."
Places of the soul
Habitat is giving Taylor something in return, his grandmother says. "He has worked out a lot of his grief working on that house."
For Taylor, building a Habitat home is the most meaningful way to honor his mom. "Her real passion was architecture," Taylor says. "When she went into the office, she wasn't Maureen with breast cancer, she was Maureen the architect. She worked up until the week she died."
Taylor aspires to become an architect, too, and plans to design homes. His mom gave him a book, Places of the Soul: Architecture and Environmental Design as a Healing Art. "For me, homes are places of the soul," Taylor says. "When you create a home, you create a space for someone to express themselves. You create a foundation. That is why I think Habitat is such a great organization. It creates that foundation for families to kick start their life into high gear and start doing big things."
Raising 85,000 to sponsor a Habitat home is a big thing in its own right. Maureen's architecture firm made the first big donation toward the house. His father, Gary, who owns a technology company, also introduced Taylor to some possible donors. "I learned as I went through the process. You have to talk to people and if they say no, you just have to talk to someone else," Taylor says. He has started raising money to sponsor a second Habitat home — this one to honor all women who have battled breast cancer. He's also planning to go on a Global Village trip to a location in Africa next year.
Meanwhile, the house in Maureen's honor is well under way. "I can't wait till Saturdays," says Taylor, who has given up soccer to spend his weekends building with Annette. "It has been great to get to know her, and it is cool to share her story," he says. "And I feel close to my mom. That is the best part of this experience."
Want to be like Taylor and change the world? Your financial support, your voice and your time will help more future homeowners like Annette build or improve a place they can call home.
Subscribe to our monthly newsletter
Get the latest Habitat news, volunteer opportunities, DIY tips and more ways to get involved.