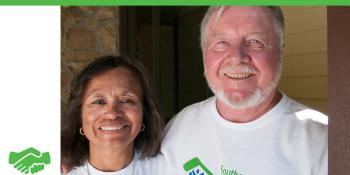 Meeting a new family: Habitat volunteers
On a steamy, sunny day, Jo Flowers buzzes around the construction site filling volunteers' water bottles while her husband presides over his domain: the white tool truck. If Jeni or Kara or Keith or Charlie or anyone else from Southern Crescent Habitat for Humanity needs a hammer or a jigsaw or a nail gun, John Flowers is on it.
Jo and John have been filling bottles and fetching tools — and so much more — since construction began on the first house on this cul de sac of Habitat homes in Lovejoy, 30 miles south of Atlanta, Georgia. That was seven homes ago.
Yes, they volunteer with Southern Crescent Habitat 40 to 60 hours a week to help fill the days, the Flowers say. And yes, volunteering is good for the soul. But there is something bigger at play now. The people of Southern Crescent Habitat are family. "They look after us," John says, "and we look after them."
Jo and John weren't looking for a new family when they reached out to Southern Crescent Habitat almost a year ago. They were looking for help painting the tidy yellow home that they have owned for 32 years. The paint estimates were coming in too high, and money was tight for the couple, forced into early retirement.
An on-the-job injury sidelined John years ago. The recession cost Jo her dry cleaning business. Then she got hurt working at another business, suffering third degree burns after a press fell and locked on her right arm. Multiple operations and physical therapy followed, and Jo still wears a blue, arm-length compression glove to help with her circulation.
A county official was the one who suggested that the Flowers call Habitat. "We were surprised because we thought they only built new homes. We didn't know they did repairs," Jo says.
An estimated 70 to 90 percent of the families that Habitat serves through repairs have a member over 50 — John is 67, Jo is 61. The repair work, which ranges from small jobs like painting to bigger undertakings like new roofs, helps many people stay in their home as they grow older. Their presence, in turn, helps keep neighborhoods stable.
Southern Crescent Habitat painted the Flowers' house and then some. Volunteers also helped replace the overhang and railing on the front porch, put in new flooring and rails on the back deck, and installed a new furnace and compressor.
Jeni Kippel, Southern Crescent Habitat's construction manager, bonded with the Flowers instantly. "I have gotten to know them so well that they do feel like family," she says. "I am surprised how lost I am if they are not around."
Luckily, the Flowers are around a lot. The tool truck is John's nirvana. "I like order, and that's why the tool truck is a good job for me," says John, as he hunts down a missing pair of needle nose pliers. Jo, working hospitality, makes sure staff and volunteers have plenty to eat and drink.
The Flowers have loved getting to know the Habitat volunteers and partner families. They attend all of the local house dedications. "Habitat is a wonderful family," Jo says. "And to think we almost didn't call."