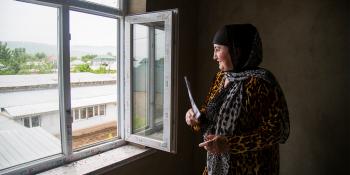 Momajon and Karim
Dushanbe, Tajikistan
Most families in Tajikistan only dream of doing what Momajon and Karim have done: building a home all at once.
That's because most families can only afford piecemeal construction — building when they have saved to buy enough bricks to build a wall, or enough cement to lay a floor, or even enough wood to finish a roof. Families often live in one room until the next one is completed. The process can take years.
Momajon and Karim were able to build their house at one go with the help of low-interest loans from a microfinance bank and construction planning from Habitat Tajikistan. "We built our house from scratch," says Momajon, who shares her home with extended family and her grandchildren.
In Tajikistan, financial institutions are only willing to lend for short periods at high interest rates that many families cannot afford. To help ease the housing crisis, Habitat Tajikistan has worked with microfinance banks and institutions to create loans with low rates and longer repayment periods. Habitat Tajikistan also trains loan officers to accurately estimate building costs and provides construction guidance through manuals and advisers.
Momajon sells clothes at the local bazaar, and Karim draws a policeman's pension. They had been living in a place where they shared bathrooms and kitchens with other families and struggled to send their children to college. Now, through a series of short-term loans, they have an affordable home and a comfortable life. "We always dreamed of owning our own home," Momajon says.