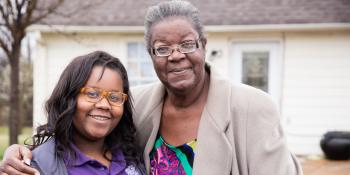 No place like home
Habitat helps people stay in their homes as they age.
After raising her own kids, Carrie has signed on once again for days filled with homework, basketball games, music lessons, dance team and choir practice.
The former Memphis schoolteacher is parenting her 14-year-old granddaughter, Angelique, and 7-year-old great-grandson, Joshual — and doing so joyfully. "I tell them all the time that they are the reason I get up in the morning," Carrie says, "and they are why I have to stick around, to see what they become."
This round of parenting has come with some new challenges. Her health is one. Like so many older people throughout the United States, Carrie couldn't afford to keep up the maintenance on her house.
Through a repair program for older homeowners led by Habitat for Humanity of Greater Memphis, Carrie's house has a new roof, water heater and lighting. The door to her house has been made wheelchair accessible, for the days when Carrie has trouble walking. "When they put that roof on, my great-grandson said, 'We don't need the pots and pans in my room anymore.' He is so excited," Carrie says. "We all are."
Carrie is among a growing number of grandparents raising grandchildren. As a whole, the U.S. is getting older — one in five Americans will be 65 years or greater by 2030, and their numbers are expected to double by 2050.
People want to grow old in their own home and expect to do so, according to research by AARP Foundation. Through our neighborhood revitalization efforts, Habitat works to make aging in place possible with these older residents.
Carrie is a proud woman. She is proud to count herself among the first African Americans to graduate from the University of Mississippi. She is proud of her ability to connect with kids — she taught middle-school math and counseled teenagers with drug and alcohol problems before she got sick. Carrie is mostly proud of her granddaughter and great-grandson. "I have to admit they are some pretty good kids," she says. "I want the house to be better for them."
Now, it is. Both children have allergies, which are under control now that the house is dry. Carrie likes to cook with the kids. "We cook some greens and beans, something that will stick to them," she says. "My kitchen was dark as a thousand midnights. Habitat came in and put in a light, and it is like a whole new world in there. It is like a whole new world for us."
Subscribe to our monthly newsletter
Get the latest Habitat news, volunteer opportunities, DIY tips and more ways to get involved.