No place like home
Habitat helps people stay in their homes as they age.
After raising her own kids, Carrie has signed on once again for days filled with homework, basketball games, music lessons, dance team, choir practice.
The former Memphis schoolteacher is parenting her 14-year-old granddaughter, Angelique, and 7-year-old great-grandson, Joshual — and doing so joyfully. "I tell them all the time that they are the reason I get up in the morning," Carrie says, "and they are why I have to stick around, to see what they become."
This round of parenting has come with some new challenges. Her health is one. And like so many older people throughout the United States, Carrie couldn't afford to keep up the maintenance on her house.
Through a repair program for older homeowners led by Habitat for Humanity of Greater Memphis, Carrie's house has a new roof, water heater and lighting. The door to her house has been made wheelchair accessible, for the days when Carrie has trouble walking. "When they put that roof on, my great-grandson said, 'We don't need the pots and pans in my room anymore.' He is so excited," Carrie says. "We all are."
"One of the most important issues" 
Carrie is among a growing number of grandparents raising grandchildren. As a whole, the U.S. is getting older — one in five Americans will be 65 years or greater by 2030, and their numbers are expected to double by 2050.
One thing has not changed. People want to grow old in their own home and expect to do so, according to research by AARP Foundation. Habitat recognizes the long-term contributions these older residents have made and continue to make in their communities, and we're intensifying our work with them as part of our neighborhood revitalization efforts.
"The housing needs of older adults are one of the most important issues this country is facing," says Sue Henderson, Habitat for Humanity International's vice president for U.S. operations. "We recognize something far more important — the simple fact that seniors are special. Their contributions paved the way for our successes. We want to be part of the solution that helps them stay in their homes."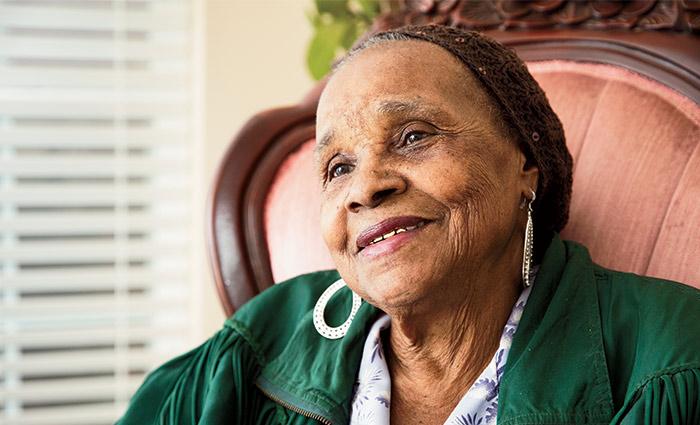 Part of the solution
In 2014, the Plough Foundation, a Memphis nonprofit, awarded $3.9 million for house repairs and rehabs for low-income seniors living in Shelby County, which includes the city of Memphis. Memphis Habitat was selected as the lead agency of the initiative and is partnering with Service Over Self, a nonprofit that also does home repairs, and MLGW, the local utility company that looks for energy-efficient ways to save homeowners money. In 2016, this consortium plans to repair or rehab 250 homes.
Alice was among the first homeowners to apply for help. Her daughter lives close by and wants Alice to stay with her. "I want to be in my house, to sling my own pots and pans," Alice says. A bad knee makes the 80-year-old a little unsteady on her feet, but a new no-step entry into the house, a high toilet and handrails in the hallway provide her with more sure footing, as well as minimize the likelihood of her falling. Alice also has a new roof.
One of the biggest improvements, Alice says, is that her HVAC system was fixed, so she now has heat when it's cold and air conditioning when it's hot. The house used to get so oppressive in the summer that Alice didn't cook. She could barely even catch her breath, she says, because her lungs don't work very well. "I was just going to suffer till I could do better," Alice says. "Habitat helped me do better."
In addition to their repair work, Memphis Habitat recently expanded their team to include a social worker who steers older homeowners to additional community resources, including ones focusing on nutrition, health and transportation. The initiative isn't just about keeping someone in their home. It is about improving their quality of life.
In a recent round of surveys, all of the homeowners reported feeling more stable and proud of their homes. They should be proud of themselves, says Mary Claire Borys, manager of Memphis Habitat's aging in place initiative. "We couldn't ask for better role models for our new Habitat homeowners. Who knows better how to pay the mortgage and be a good neighbor than people who have been doing it for 30 and 40 years?"
"A whole new world" 
Carrie is a proud woman. She is proud to count herself among the first African Americans to graduate from the University of Mississippi. She is proud of her ability to connect with kids — she taught middle-school math and counseled teenagers with drug and alcohol problems before she got sick. Carrie is mostly proud of her granddaughter and great-grandson. "I have to admit they are some pretty good kids," she says. "I want the house to be better for them."
And it is. Both children have allergies, which are under control now that the house is dry. Carrie likes to cook with the kids. "We cook some greens and beans, something that will stick to them," she says. "My kitchen was dark as a thousand midnights. Habitat came in and put in a light, and it is like a whole new world in there. It is like a whole new world for us."
The Carters to build in Memphis
James lived through the bad times in the Memphis neighborhood of Uptown, always hopeful that the good times would come. He is glad he stuck around.
"The neighborhood has started coming back to itself," says James, who is 69 and bought his house in Uptown 31 years ago. "And now, all different kinds of neighbors are coming in, all of them real nice."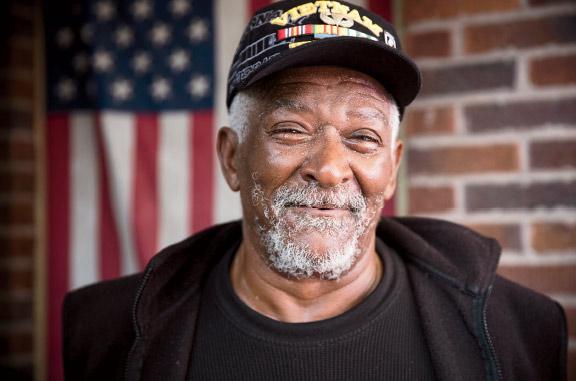 Even more people will be moving into Uptown, the focus of the 2016 Jimmy & Rosalynn Carter Work Project. From Aug. 21-26, President and Mrs. Carter and thousands of volunteers will join homeowners and future homeowners to build new homes, repair homes of older residents and complete beautification projects.
Memphis Habitat has been working with residents and other partners to revitalize Uptown since 2012. Habitat has been involved in the rehab and beautification of more than 85 properties, including 16 historical houses, several commercial properties, and the homes of more than 70 veterans and older residents, including James. 
James, who served 20 years in the Army and two stints in Vietnam, raised three sets of kids in his house in Uptown, including a nephew whose father had died. Pearline, James' wife of 43 years, died in 2008. "I miss my wife, but this home gives me a peace of mind." he says. "I can be free and relaxed here. I look out for my neighbors, and they look out for me because that is what neighbors do."
James doesn't like to drive anymore so he bikes around the neighborhood. He likes what he sees. "I see Habitat working all over," he says. "I guess if you live long enough, you get to see things get better."
Subscribe to our monthly newsletter
Get the latest Habitat news, volunteer opportunities, DIY tips and more ways to get involved.