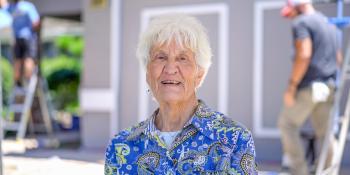 Older adults aging at home gracefully and safely with Habitat
Since moving into her ranch house decades ago, Rachel had hopes of tackling the upkeep it required.
But those hopes — including refreshing the flaking exterior paint — took a back seat to more immediate needs, like putting gas in the tank and food on the table.
"I always thought, well, next year, next year," says Rachel, who lives in Fresno, California. Before she knew it, the 85-year-old says, "Thirty years passed — and I lived in a weather-beaten house. I was embarrassed. I was accepting the fact that my house looked bad."
Rachel pauses before her blue eyes light up, a smile spreading. "Then the angels came along." 
After responding to an ad in the local paper, Rachel connected with Habitat for Humanity Greater Fresno's Aging in Place program, an initiative to help older adults remain and age safely in their homes.
In a single afternoon, Habitat staff and volunteers checked off Rachel's years-long dream of repainting her home — transforming its original taupe stucco with a coat of modern light gray paint and replacing the fading blue trim with bright white. "I am so proud of my house now," says Rachel.
While there, the crew discovered that Rachel's water heater had broken and that for over a month, she had been heating water on the stove — one pot at a time — to bathe and wash dishes. This wasn't just time-consuming; it was dangerous because of the potential risk of being scalded by the water.
"I was accepting the fact that my house looked bad. Then the angels came along."
— Rachel, Habitat homeowner
"They couldn't believe that I was sitting here with no hot water and not asking for help, but that's just the way I was raised," Rachel says. After a full day of scraping, sanding and painting, Habitat staff returned to repair the water heater — restoring Rachel's warm water and her safety.  
"They turned my old house into new," Rachel says. "They made me feel like a queen for the day."
According to the Census Bureau, 62 million women and men in the U.S. are 65 or older. The number is expected to grow to 78 million over the next 15 years. A 2018 AARP survey found that, like Rachel, more than three-fourths of older Americans prefer to stay in their home as they age. However, that same survey found that only 46% of participants anticipate they'll be able to.
For some people, the combination of physical challenges and a fixed income in the face of costly repairs can force them to move. Deferred but critical home projects often snowball into larger, more expensive issues that can threaten residents' health, safety and even their homeownership through repeated code violations.
For others, their homes simply weren't built to accommodate the changing needs and abilities that come with aging. Stairs can cut residents off from second stories and basements, and even the outside world. Shelves become unreachable. Door and cabinet handles become difficult to grasp. 
Through Aging in Place, Habitat hopes to alleviate these issues so more people can have the choice of where they grow older. For Rachel, who has always wanted to age in the comfort of her own home, she feels more confident in that desire now that these repairs have been made.
"This is my home, and I'd still be trying to make do if it wasn't for their help," she says. "So I am so grateful to them, and I will spend the rest of my life trying to pay that back."