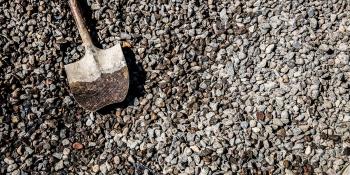 Pathways to permanence: What we build
Habitat provides stepping stones to help families get back into permanent homes.
Building long-term recovery
Interview with Habitat for Humanity International's senior director of disaster risk reduction and response.
Q: How many disaster-affected families has Habitat served?
A: More than 200,000 families, in 44 countries including the U.S, where more than 100 affiliates have had some type of disaster response since 2003.
Q: News and human nature tends to focus on massive catastrophes, but Habitat also goes into situations where just one town or village needs help, doesn't it?
A: The people who know we respond to disasters know it because of our work with Hurricane Katrina or the tsunami. But over half of what we've done to date has been smaller — like a tornado hitting a town in Tennessee.
Q: What kinds of intervention are there?
A: In the 15 years we have been doing this, we've expanded our options. Overall, we call it "Pathways to Permanence." Whatever the intervention is, it should be a stepping stone to get a family back into a permanent home. We feel it's our responsibility to help people get permanent shelter and to make sure that low-income families aren't forgotten. We look at long-term recovery.
Building connections
Disaster Corps volunteers are often the ones Habitat turns to first when a disaster occurs, helping local affiliates implement their recovery efforts. Bob and Joyce Daugherty have helped homeowners after a typhoon in Australia, a tornado in Illinois and Hurricane Sandy in New Jersey.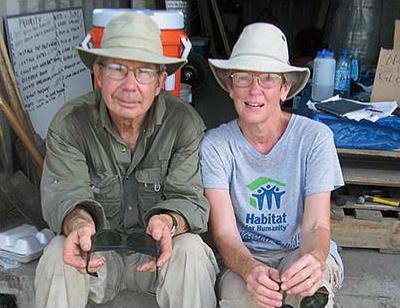 Why they respond
Bob: We both grew up in Oklahoma, where you had tornadoes quite regularly. And now we live in Florida, so we were aware that when those things happen, you feel so helpless. And seeing the situation that many of these families were in, we felt this was something that we wanted to participate in. People are often in a hopeless situation and really have no idea where to go to get assistance, and Habitat helps provide that.
What drives them
Bob: A safe and stable house is really foundational. One of the things we really enjoy is seeing the change in attitude, the hope when people see that they're going back to a more normal life.
Joyce: On top of that, we're putting our faith into action. We've been given so much love that we can't keep it; we need to give it back.
Building empathy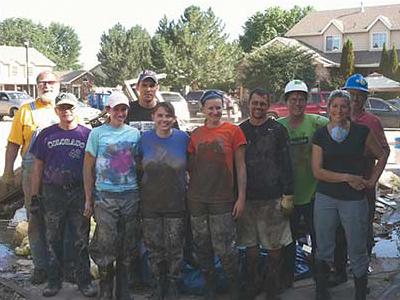 David Emerson, executive director of Habitat St. Vrain Valley, found himself on a different side of the homeowner/helper handshake in September 2013. His Colorado neighborhood suffered crippling floods, and though he and his family all made it to safety, they had just minutes to grab a few belongings as water rose in the streets.
It was three or four days before they could even get back to the house to view the damage. Almost immediately volunteers began to arrive, cleaning homes, bringing food and water, and even drying family photos.
Emerson's experience of being helped by neighbors and strangers gave him new insight into Habitat's work. "It only affirms everything we talk about," he says. "I think the manner in which we got relief — through volunteers — created a stronger, more resilient community for us.
"I got to see what it's like to be overwhelmed by people's generosity and to allow people to be part of something good."
Subscribe to our monthly newsletter
Get our latest news, volunteer opportunities, DIY tips and other ways to get involved with Habitat for Humanity.