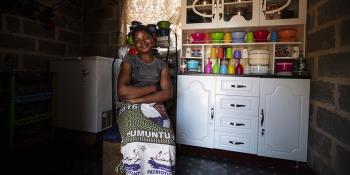 Providing security for generations to come
"I love this house," Lucy beams. It shows.
The plants she potted flourish on the front porch of her home. The inside is decorated with happy, colorful dishes and white lace curtains from the local market where Lucy sells bread, milk and ice blocks. Taking care of and loving this house is an expression of gratitude, she says. "It has cushioned us from hardship."
Life had been unimaginably hard after her mother died nine years ago — her dad had died a year earlier. Lucy, only in the seventh grade at the time, quit school to raise her younger brothers, Bornface and Gift, then 9 and 7. The trio got by as best they could until their mud-brick house collapsed.
More than 70% of Zambians live in substandard conditions, many in homes constructed with bricks made of mud and roofed with sheets of tin anchored in place with rocks. Given Zambia's months-long rainy season, the porous bricks deteriorate over time and many homes eventually give way. These collapses can be fatal for anyone trapped beneath the fallen structures.
Luckily, Lucy and her brothers were not injured — but they found themselves moving from relative to relative in pursuit of shelter. Eventually they returned to their house but were essentially homeless as they tried to rebuild, mud brick by mud brick, whenever funds would allow.
That's when a pastor discovered them and reached out to organizations working in the community. "When I met them, their place was basically a ruin," says Monica Zimba, a volunteer who works to identify families needing help. "I was overwhelmed by the whole situation. But I believed in Lucy."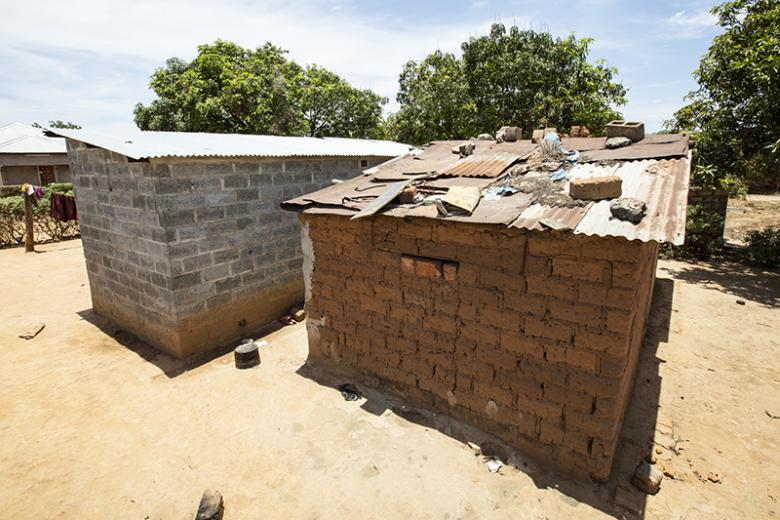 Habitat Zambia believed in Lucy, too. Here, Habitat builds homes with vulnerable groups such as the elderly, people with disabilities, orphans and households headed up by children. "When we build homes, we are providing security for families today and generations to come," says Ruth Mitimingi, Habitat Zambia's acting national director.
Habitat Global Village student volunteers from the Republic of Ireland helped build Lucy's house out of durable and dependable cement block. "After Habitat came and said they were going to help us, I leaped with joy," Lucy says.
The house has created a chance for the family to thrive, she says. Her brothers are in school and very studious. Bornface wants to be a pastor; Gift, a doctor. "I'm happy the way they concentrate on their studies," Lucy says. She has career plans, too. "I would love to see my business grow."
Although the house is new, Lucy still feels her mother's presence. She believes that her mother would be proud of how well all of her children are doing. "The way we are living, and how beautiful this place has become, she would be very happy."