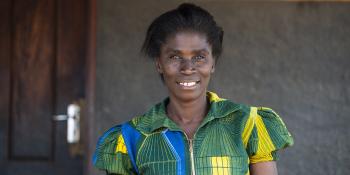 Residents empowering residents
Christopher stares way up into the sky as a plane flies overhead. The 13-year-old wants to be a pilot someday. "When I dream, I dream that I am flying an airplane," he says.
His grandmother has been thinking about Christopher's future, too. To ensure that he can continue living in their home should something happen to her, she has written a will with the help of Habitat Zambia.
As a part of Habitat's Solid Ground global advocacy campaign, Habitat Zambia helps families — in particular those headed by women. Residents in seven communities now gather in small groups called study circles to learn their land rights and how to assert them and to become more involved in land issues in general. Habitat Zambia coordinates meetings between the study circles and local officials.
Habitat also has trained and mobilized some 140 change agents — influential community and religious leaders — and 70 civic leaders. "We are helping to change things," says Joyce, pictured, a Habitat homeowner and a change agent. "We are making a difference."
Change agents advocate on land issues involving gender equality. Although the laws in Zambia recognize the land rights of women, they aren't always enforced. This is why Habitat Zambia's advocacy efforts include a program on will writing. "The day you are not there, your children will be protected," says Miriam, a change agent and Habitat homeowner.
Without a will, many families can lose their land to relatives who may try to claim property following a death. Without documentation that they have rights to their land, any family can find themselves at risk of eviction.
Residents of two informal settlements in the city of Ndola were at risk because they lacked their documentation. Habitat Zambia and resident advocates began meeting with city officials and now some 3,000 households have government-issued land tenure cards.
Documents do more than protect families from being turned out of their homes; they also can open doors of new opportunity. With proper documentation, families might use their property as collateral for new business ventures or home improvement loans.
"When you don't have land documents, bad things can happen," Miriam says. "When you have your documents, a lot of good things can."