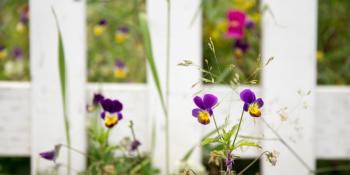 Q&A: Robert Wood Johnson Foundation partners with Habitat to improve neighborhoods
With funding from the Robert Wood Johnson Foundation, Habitat for Humanity is working alongside revitalizing communities across the United States to identify strategies to improve the health and quality of life of residents living there.
Robert Wood Johnson Foundation's George Hobor and Kaitlyn Meirs share what they hope to achieve through this partnership with Habitat.
Q: Why is this initiative with Habitat important to the Robert Wood Johnson Foundation?
Hobor: At the Robert Wood Johnson Foundation, we want to see a future where everyone has a fair and just opportunity to live the healthiest life possible — and we know that the conditions in communities can either set people up to be healthy or can create all kinds of barriers to health. We've evolved in how we think about community conditions — it's about the built environment, but we're also learning how important social connectedness is to supporting positive outcomes. Habitat's more holistic view of what makes for a healthy place make it a good fit for us. And we also really appreciate that Habitat is very intentional about giving residents a voice because we're also seeing that individual and collective agency — the power to help shape your own future and the future of your community — are important for health as well.
Meirs: We know a secure, affordable home is a critical foundation for good health — and between the foundation and Habitat, we mutually agree that there are things outside of housing that are important for creating a healthier, more equitable community. Certainly, Habitat has a brand and reputation that people know and trust. And Habitat does a significant amount of work in community, which makes them an ideal partner for this type of work. We don't have a lot of on-the-ground knowledge, and Habitat does.
Q: Why is this work important?
Hobor: This work and this partnership allow us to shift to a more comprehensive way of thinking of the conditions that hold a place together. We are looking at how communities can improve physical, social and economic conditions, in a way that empowers the local residents while building a healthier place. It is more grassroots and ground up, which makes it a really intriguing experiment.
Q: You talked about Habitat's model of working alongside families, and taking the lead from residents we serve, as something the foundation was drawn to. Can you talk more about that?
Meirs: We see that as an important pillar. Equity is an important part of building a culture of health. We look for equity not only in the outcomes of what we do but also how we do it. People having a say in their future and in their communities is the cornerstone of why we believe that this model will be effective.
Q: What do you hope will be the outcomes of this partnership?
Meirs: When I think about success, it is much more about laying the groundwork for how we create something bigger and better longer term. How do we lay the groundwork now to think 5- to-10 years down the line? What are we setting places up to accomplish in the long term? And how are we influencing each other in the way we think and communicate about housing, about health, about community development? We're eager to learn from this effort — and to spread what we learn about how neighborhood revitalization that puts residents in the driver's seat for change can influence health and quality of life.