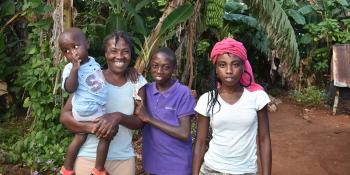 Rebuilding amid the rubble in southwestern Haiti
Shortly before 8:30 a.m. on a Saturday morning in August 2021, as Princile was having a quiet moment at home with the youngest of her six children, she heard a strange, unfamiliar sound.
"At first I thought it was the wind," said Princile, 49, who lives in the rugged, mountainous terrain of southwest Haiti. Then everything started shaking violently. "When I realized what was happening, I was so frazzled that I ran towards the back door instead of the front, which was closer to me at the time."
Princile considers herself one of the lucky ones. She was able to get out of her home in time, and all her children also had survived, uninjured. The 7.2-magnitude earthquake killed 2,246 people and injured 12,763 more, as homes, churches and schools crumbled to the ground in and around towns such as Les Cayes, Jérémie and Anse à Veaux.
In all, 54,000 homes were destroyed. Another 84,000 homes, including Princile's, were severely damaged. Her rock-and-cement walls could not withstand the shaking of the earth and collapsed, leaving only the wooden frame and the roof standing. Like many in the area, Princile's family slept outside, as heavy winds and rains from Tropical Depression Grace lashed the region days after the earthquake.
Ready to respond
Habitat for Humanity Haiti — which has worked in the country for nearly 40 years — was prepared to respond. The team's engineers based in the region quickly began fanning out and, in coordination with the government, assessing structures to see if they were safe. Habitat Haiti sent in reinforcements from the capital of Port au Prince. Among them was Jean Frenel Tham, Habitat Haiti's national director, who grew up in southwest Haiti and knows the reality of homes here all too well.
"Unfortunately, these structures — many with large openings on the ground floor, little or no reinforcements, and low-quality materials — often suffer serious damage in earthquakes," he says. "And, as we saw for far too many families in August, they can collapse entirely."
In close coordination with the government and local communities, Habitat Haiti initially distributed hygiene kits containing soap, toothpaste, toothbrushes, masks, towels and other items. These were followed by several distributions of shelter kits, 797 kits in collaboration with Start Fund and 1,990 kits in partnership with ShelterBox.
ShelterBox provided technical support and training in how families could best use the kits, which contained tarps, tools and fixings, thermal blankets, solar lights, kitchen sets, sleeping mats, mosquito nets and water carriers. Habitat collaborated with the government and local communities to identify families and lead distributions.
Picking up the pieces
Princile said the first thing she used from the ShelterBox kit was the shovel, clearing away the collapsed walls that had turned to rubble. "The items from the kit, such as this solar lamp, were incredibly helpful to us right after the quake," she says, the glow of the lamp lighting up her home. She created makeshift walls by fastening the kit's tarps to the wooden frame of her house. She and her children once again are protected them from the elements and have privacy again.
Princile and other program participants received a cash transfer of $150 that they could spend how they wanted through Habitat's partnership with ShelterBox. Some families used the funds to meet immediate food needs. Others invested in improvements to their homes or are saving the funds to help cover school fees. Many have purchased livestock. Princile, for instance, opted to buy sheep. "Once you have animals," she said, "you can breed them and improve your finances for the future."
In addition to immediate response efforts, Habitat Haiti is leading a project where youth are paid to remove debris or assist elderly residents.
Planning for the future
As of February 2022, Habitat Haiti's overall earthquake response had reached more than 13,000 people. "None of this would be possible without the support of the government," Jean Frenel says. "We work with the ministries, especially government entities looking after housing. At the local level, where Habitat is working with the local authorities and the mayors, we identify the most vulnerable, particularly the elderly."
Habitat also is offering up technical expertise in housing and seeking alliances with organizations that specialize in other areas of recovery so together we can provide holistic support to the most vulnerable communities. Habitat Haiti's goal: build 300 new homes and repair up to 2,000 additional homes.
The plans are similar in scale to Habitat's response to Hurricane Matthew, which devastated the same area in 2016. Then, Habitat constructed 315 homes and improved or repaired 1,500 more. The Habitat homes contain both vertical and lateral bracing that make them more resilient during hurricanes and earthquakes. And they passed a major test in the August earthquake. Assessments of Habitat homes in the weeks that followed revealed that 98% were safe to live in, incurring little to no damage.
As a result, local officials and families are eager to partner with Habitat on more of the disaster-resilient homes. "We are working with different donors and supporters to mobilize resources to continue building," Jean Frenel says. Bringing in building supplies from the capital has been extremely difficult, however, as gangs continue to control large areas. "We have to face a lot of security challenges. But we have no choice than to continue working with the community to rebuild."
Habitat Haiti also plans to replicate a training program for masons, technicians and carpenters in the area. That way, Jean Frenel says, disaster-resilient construction can continue long after Habitat's earthquake response efforts come to an end.
With Habitat Haiti's nearly four decades of experience in the country and deep connections with local officials, families and organizations, Habitat's every action is done as part of a network. Together, we and our partners are committed to helping the people of Haiti do the incredibly hard work of rebuilding so that they are safer and more secure in their homes the next time disaster strikes.