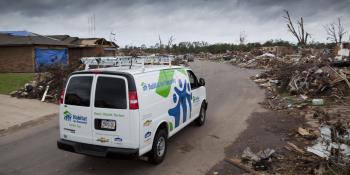 Recovery begins with small steps
As sirens blared, Linda barely had time to grab her dog and cat and seek shelter in the bathtub. She was reciting Psalm 23 — "The Lord is my shepherd, I shall not want" — when a tornado stole her Habitat house in Granbury, Texas.
After she crawled out of the tub, Habitat for Humanity of Hood County and its volunteers and the contributions that poured in from all over the country picked up where prayer left off. "It is really tough when you see something you work so hard for blown away," Linda says. "But people were there for me, and they were ready to go."
Four years later, the Habitat homes upended by that deadly tornado in the Rancho Brazos neighborhood all have been rebuilt. To borrow from Psalm 23, Linda's favorite, the souls of the families living there have been restored.
The communities now dazed and broken by names like Harvey and Irma also will be rebuilt and restored. It won't be easy and it is not always quick, but it will happen.
It has happened in the dozen years since hurricanes Katrina and Rita decimated the U.S. Gulf Coast. All along the coast, Habitat has worked alongside families to build, renovate or repair thousands of homes. "When one looks out upon devastation as far as the eye can see, in every direction, the horror and grief seem almost overwhelming," says Jim Pate, executive director of New Orleans Area Habitat for Humanity. He is talking about his city right after Katrina but just as easily could be describing Houston and Port Arthur in Texas or communities throughout Florida today.
Pate has been advising local Habitats dealing with the aftermath of Harvey and Irma. Recovery efforts this big begin with small steps, he says, one foot in front of the other. Luckily, there are many feet ready to march in lockstep. "As the trickle of volunteers becomes a stream and the stream becomes a torrent, the work of recovery steadily increases," Pate says.
And Habitat volunteers do so much more than clean out houses and put up sheetrock. "While their physical efforts are so deeply appreciated, the spiritual and emotional uplifting of you, your team, your homeowners and the entire community is the greatest treasure, the greatest gift that volunteers bring."
"As the trickle of volunteers becomes a stream and the stream becomes a torrent, the work of recovery steadily increases."
— Jim Pate, New Orleans Area Habitat for Humanity
More than 22,000 Habitat volunteers have lifted up Tuscaloosa, Alabama, since a deadly tornado hit there in 2011 and destroyed 4,000 homes. A team from Northern Ireland continues to return to build every year. "We have groups of folks who just keep coming back," says Ellen Potts, executive director of Habitat Tuscaloosa. "Those volunteers galvanized our local community to build with us."
Before the tornado, Habitat Tuscaloosa constructed a house or two a year. It has built 69 since, 40 with families displaced by the tornado. "At the end of the day, six years out, this horrible thing brought us together as a community," Potts says. "There are people who met each other who would have never met each other, people who have worked together who would have never worked together, people who are homeowners who never would have been homeowners."
More than 200 families now own homes since Habitat for Humanity Bay-Waveland Area began serving families on the Mississippi Coast following Hurricane Katrina.
"The common element in the way local Habitats work is that they see tragedy and desperation as a way to step up and serve people," says Bob Johnson, director of operations for Habitat Bay-Waveland. "The question for people who are watching from the outside is not, 'Will these families rebuild?' They are going to rebuild. The real question for people is, 'Are they going to be a part of it?'"
The tornado that tore through Granbury damaged 120 homes, 60 of them Habitat houses. Habitat Hood County gave homeowners whose houses were completely destroyed the option of rebuilding elsewhere. Linda was always going to stay put.
 "This is the house that my husband and I built together with Habitat, and we had such a good life here. I just couldn't leave it," says Linda, whose husband, Steve, died two years before the tornado. "I can't compare my tornado to what people are going through now except to say, 'Habitat will be there for you.' They were there for me every step of the way."