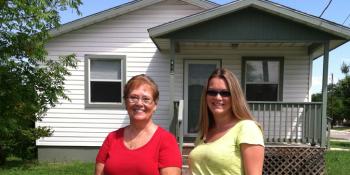 Karen Quanstrom didn't understand at first. The executive director of Habitat for Humanity of Kerr County found herself on the phone with Habitat homeowner Laci Kocurek, who called to ask about deeding her house back.
Quanstrom feared Kocurek might have encountered financial troubles, so she began telling Kocurek about the ways they could work with her to help her stay in the house. But what Kocurek wanted was to give her home back to Habitat Kerr County — so that the affiliate could sell it to another family who needed a decent place to live.
"I had to tell her several times what I really wanted, and even after that first phone conversation, she called me back several times and said, 'I want to make sure you know what you're doing,'" Kocurek recalls. "She was pretty shocked."
Kocurek had recently married, and she and her husband had purchased a house together for their soon-to-be family of five. They decided to give the Habitat house back. "I know how much it meant to me when I needed it most — and also to my children," Kocurek says, "so I guess I just wanted to be a small part in helping somebody else feel that."
Kocurek says having the home helped her gain confidence and has played a huge part in her success at her job. "The whole process of going through the building of it — living there, maintaining it — really helped mold me into being independent. Because I really wasn't before," she says.
Knowing her home will soon help another family makes the donation easy. "That was mine and my kids' first home together, just us, so it was a little sad, but knowing that somebody else who didn't have a home was going to be moving into it really overpowered that sadness," she says. "It felt good. It really felt good."
Because of Kocurek's generosity, Habitat Kerr County has been able to do more. "It definitely allowed us to serve a family that we would not have been able to serve," Quanstrom says, explaining that five families will move into Habitat Kerr County homes this year, instead of the previously planned four. "That's the wonderful joy of it."