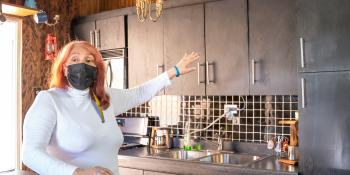 A return to home: Rebuilding in Puerto Rico
Antero and his wife, Luz, moved into their home in the Adjuntas municipality of Puerto Rico nearly 30 years ago. Together, they shared countless memories under its roof and raised their three children inside its walls. But when Hurricane Maria barreled across the island in 2017, the couple's treasured family home was almost destroyed.  
"The building was standing. Thank God," says 62-year-old Antero, in his native Spanish, as he recalls inspecting his home after the hurricane. "Later, I continued checking and searching, and I noticed the severe damage to the interior. And the roof was so weakened it could no longer withstand even a breeze."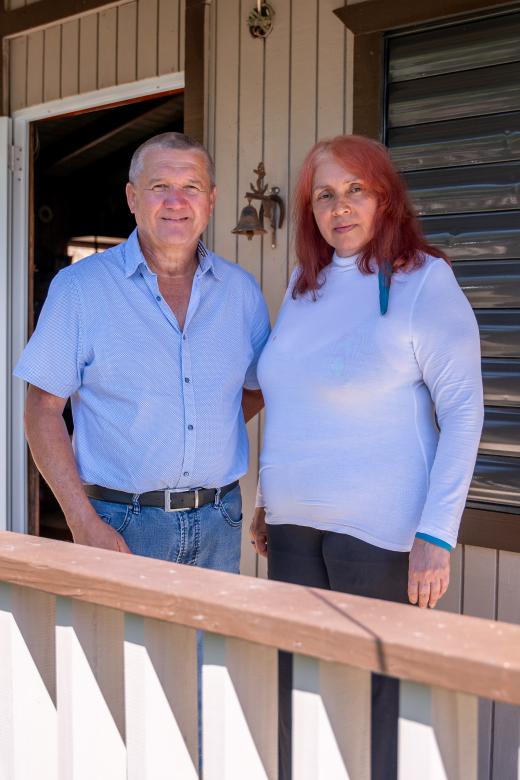 Antero and his family worked to secure the home as best they could, despite having to spend the six months following the storm without electricity or water. Their kitchen cabinets had gotten wet and began attracting moths. Antero, a wood artisan by trade, tried tying down the metal sheeting on the roof with cables to keep the rain out. It didn't work for long. "I was working, but financially I wasn't very well. There were days without work, the pay was meager, and buying materials was very difficult," he says.
The road to recovery
After the storm, communication was challenging, especially in rural areas, like Antero and Luz's neighborhood in Adjuntas. Vans with loudspeakers drove through severely damaged areas sharing information about Habitat's home repair program.
The couple believed Habitat could be the answer to their prayers and applied. Sixty-four-year-old Luz says she felt like, "the happiest woman in the world," when she heard they'd been approved. When the repairs took place, it had been more than three years since the couple's home was damaged by the storm.
Five years ago, AbbVie, a research-based global biopharmaceutical company that has operated on the island for nearly 50 years, donated $50 million to Habitat to help families and communities recover from the devastation of hurricanes Irma and Maria in 2017 and strengthen access to housing in Puerto Rico. With AbbVie's support, Habitat has partnered directly with hurricane-affected families, like Antero and Luz, to address their shelter needs. Besides home repair work, Habitat's holistic program also supports workforce development, securing land tenure and fostering long-term improvement to shelter and land resilience issues.
During their repairs, Antero and Luz's home received a new roof and kitchen cabinetry, waterproofing of the concrete roof, replacement of an aluminum door and interior wood doors, general electric work, and repair of their balcony and stairs as well as interior and exterior paint. Antero also used his skills as an artisan to help personalize some of the repairs, including purchasing and installing trim for the windows, and he installed a new gas stove.
A safe place to be
"We live more confidently now," says Antero. "We no longer have leaks. When I saw how the house was and seeing it now, it's like a load that has been taken off. We even enjoy downpours now because we know we'll stay warm and dry."
The couple loves being able to have family over again and looks forward to spending many more joyous occasions with their children and two grandchildren. "Home is happiness," Antero says.