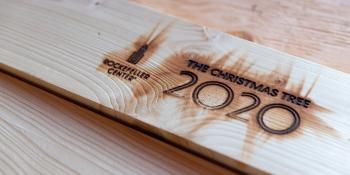 The Rockefeller Center Christmas tree finds a new life helping more plants grow
Each year, the Rockefeller Center Christmas tree's bright lights and majestic star inspire joy and holiday magic worldwide. That magic lives on year-round for some Habitat for Humanity homeowners. Since 2007, lumber milled from the tree has been used to help a family build their Habitat home.
Habitat for Humanity Greater Los Angeles homeowner Kyla and her mother, Jennifer, teamed up with Habitat Humanitarians Drew and Jonathan Scott to build a unique window box for their home using wood from the 2020 tree. Jennifer, an amateur horticulturalist, looks forward to growing herbs like basil, oregano and sage in the planter to create spices.
The wood used to construct the window box is branded with a commemorative stamp that serves as a reminder of its festive origins. Kyla says that, from now on, the lighting of the Rockefeller Christmas tree each year will have a new meaning for her and her family.
Watch Kyla and Jennifer work alongside the Scott Brothers to craft their window box: