David and Nino keep the 2012 Rockefeller Center Christmas tree in the garage of their Habitat for Humanity home.
Not all of the 80-foot Norway spruce, of course, or even most of it. But there's just enough to remind them how much their lives have changed for the better.
"This tree has blessed our house," David says, "and it helped put us on a new path."
Even growing up in Tbilisi, Georgia, the couple knew all about the world-famous Rockefeller Center Christmas tree. "It is very special, the main tree of the United States," David says.
They learned just how special five years ago when they built their Habitat home in Madison, New Jersey.
For the past 11 years, the owners and manager of Rockefeller Center, Tishman Speyer, have donated the tree to Habitat. The trees are milled and used to build Habitat houses.
Wood from the 2012 Rockefeller Center Christmas tree went toward building a wall in David's garage. David thinks about it every time he gets in his car. "The wood is exposed and I can still see the stamp," he says.
David and Nino weren't sure they would ever own a house. They immigrated to Madison 15 years ago when their sons Luca and Matthew were 11 and 8.
The family settled in Madison because the schools are good and the community is welcoming. They could not, however, afford to buy a home. David is a stained glass artist and interior decorator while Nino works as a painter and part-time at the local library.
"We rented houses and apartments," David says. "It was always our dream to own a house, but we never thought we could unless some miracle happened. I think some miracle happened. We learned about Morris County Habitat for Humanity."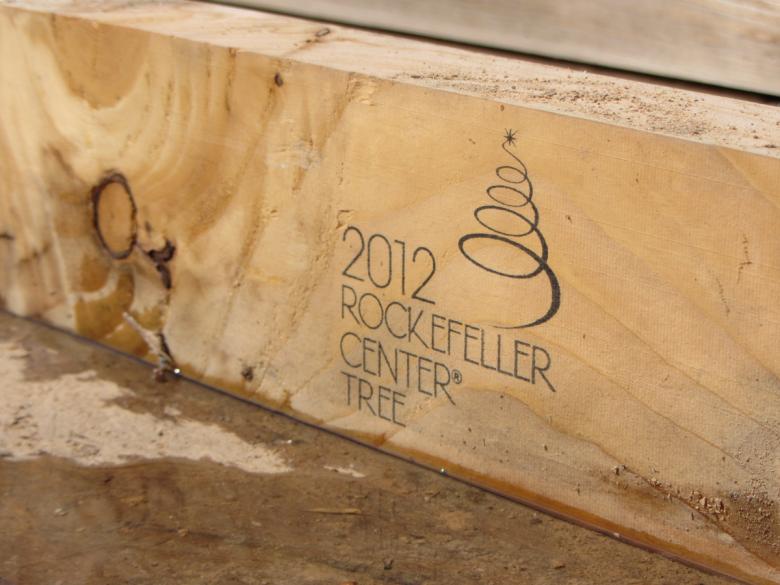 The blue Habitat house has a really nice spirit, David says. It holds the labors of love and well-wishes of the volunteers who left messages on the beams. "Imagine a house built with all of these wishes and blessings."
David designed the stained glass of a dove that sits over the front porch. "People and friends now come to visit," he says. That includes Luca, who works in New York City as a graphic designer, and Matthew, who is in college in Rhode Island.
David and Nino spend their free time in the basement that they have turned into an art studio and a yard that they have turned into gardens of flowers and fruit trees. "This house is a home that gave us the chance for a new level of life," David says.
This holiday season, he and Nino will gather with friends and family around the beautiful Christmas tree that they decorated. But they are still partial to the one in the garage.
Subscribe
Sign up for our monthly newsletter for more stories like these, plus the latest news, volunteer opportunities, DIY tips and other ways to get involved with Habitat for Humanity.