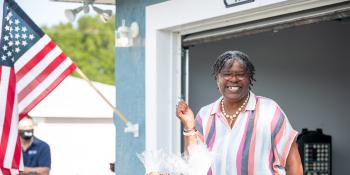 "Every night I get up and walk my house and just look around. I feel normal. I feel like I have become part of society again," says Lisa, a 53-year-old U.S. Navy veteran. "And it's not just the house that's building my dignity and pride – it's working with Habitat from the beginning."
After leaving the military, Lisa faced several setbacks due to injuries sustained in Operation Desert Shield. She later became homeless, living in her car with her teenage son. The green Buick Century was a blessing and a target. "A car is worth gold to a homeless person because it's shelter," says Lisa. "I was broken into many times."
Lisa's car had no air conditioning or heat and only one working window. In the evenings, she often parked in well-lit parking lots, like at hospitals, to stay safe and slipped into public bathrooms to bathe. When temperatures plummeted, she sought out emergency warming centers.
While living at a transitional home for women veterans, Lisa met staff from Habitat for Humanity of Brevard County who were recruiting applicants for its Cocoa, Florida, Female Veterans Village. Having been recently approved to receive disability benefits by the Department of Veterans Affairs, she finally had the financial means to secure a home of her own and applied. "I felt like God was saying 'Now you're ready, and now it's your time to get a house,'" says Lisa.
"Everybody knows Lisa, and everybody loves Lisa," says Anna Terry, executive director of Habitat for Humanity of Brevard County. "Her story shows that anyone can change their life for the better with a hand up."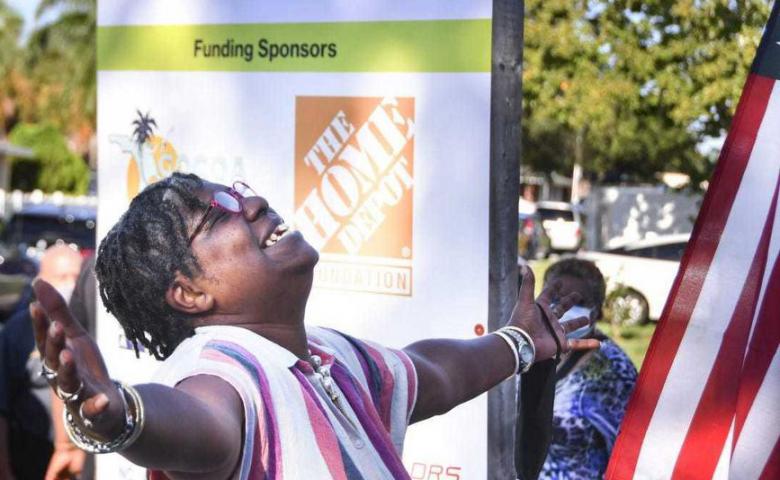 Developed by Habitat Brevard, Female Veterans Village is a community that will feature six single-family homes. While providing a safe space for women veterans to overcome housing instability, the community is also a place where residents can develop a support system amongst fellow servicemembers. Lisa is the second resident to move into the community, following in the footsteps of Karla, a U.S. Army veteran. "The village speaks to our core mission to help create a world where everyone has a decent place to live," says Anna.
Since 2012, The Home Depot Foundation and Habitat have helped improve the health, life and safety of more than 1,300 veterans and their families through Habitat's Repair Corps, which funds critical repairs on the homes of veterans. Members of Team Depot, The Home Depot's associate-led volunteer force, partner with their local Habitat organizations to build alongside veteran homeowners nationwide. Store manager Frank Branson was one of a dozen volunteers from Team Depot who helped Lisa and Karla make their homes a reality. "It was an honor for me and our associates to work alongside these amazing servicewomen to build their homes," says Frank.
To fulfill her sweat equity requirements, Lisa volunteered in the Habitat ReStore and worked on her own home and on other builds. She met her future neighbor Karla while volunteering at one of Habitat Brevard's build events. The two became fast friends and volunteered to work on each other's homes.
"I met Lisa on my first day volunteering with Habitat," says Karla. "I didn't have a car at the time, and she ended up giving me rides. We became pretty close, so it's really neat that now we're forever neighbors."
Karla entered the U.S. Army after high school and was stationed in Germany. After leaving the military, she struggled to make ends meet while raising two kids as a single parent. "The kids went to live with their father while I tried to get on my feet. I was sleeping on couches or renting rooms. Later, I lived with my daughter for a while when she bought a house," says Karla.
Karla learned about the opportunity to join the Female Veterans Village community while living in transitional housing and began saving for her down payment. "Before Habitat, I didn't know anything about mortgages or homeowner's insurance, but now I do," she says. "I learned a lot in the finance classes about paying your debt down and having an emergency fund. It's been an all-around rewarding experience."
"We've seen Karla in action, and she is a determined and hard worker," says Ginger Blair, former director of family services at Habitat Brevard who is now with Alabama Association of Habitat Affiliates. "She sees something she wants, and she goes for it." Now that Karla has a home of her own, she has set her sights on finishing college. "One of my goals was to get my accounting degree and start my own business," she says. "Now, I have a firm foundation so I can do that."