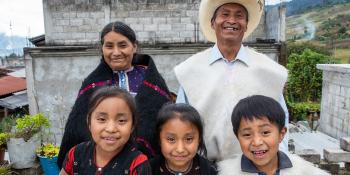 Camilo first heard about Habitat's work in the early 1990s. At the time, Habitat Mexico was helping families construct safe and durable homes near his village in the southern Mexican state of Chiapas. Cut off from phone service in this remote area near the Guatemalan border, he frequently made the hours-long journey on horseback to their work site to check on their progress, learn about Habitat's construction program and try to convince them to expand their program to his hometown further south.

His persistence paid off in 1995 when Habitat Mexico partnered with Camilo and his wife, Manuela, to build a home of their own — the first Habitat project in their community.
Camilo eagerly shares a photo of his home dedication, preserved in a pocket-sized plastic photo album, with anyone who asks. For him, the picture is a symbol not only of he and his wife's long-held dream of homeownership coming true, but also of the ripple effect the home has had in the community over the past 25 years.
Through a translator, Camilo explains in Tzotzil, his native Maya language, that his payments toward the home have been reinvested by Habitat so that more farming families in his village can also build homes.

"If we pay on time, that means the program will continue in the community and that means that other families will have a proper place to live," he explains. Since his inaugural build, more than 30 families have built a home of their own alongside Habitat — each one spurring the next.
"We are the example of the seed. We grow it, and we need to care for it to grow more and more," says Camilo.