Serving others opens the door to employment opportunities
How community service can change the course of your career path
Serving others is something that I have always tried to prioritize through my employment opportunities, whether that's working as a barista or as a city parks steward.
Building homes as an AmeriCorps member with Habitat for Humanity Seattle-King County was the epitome of what I envision as service-oriented work. As a construction volunteer lead, I was part of a team that completed four home renovations in 10 months.
With a background in architecture, I figured a year working with Habitat would give me great hands-on experience to build my professional resume. However, I realized throughout my AmeriCorps term that it's important for me to be serving people in a more direct way.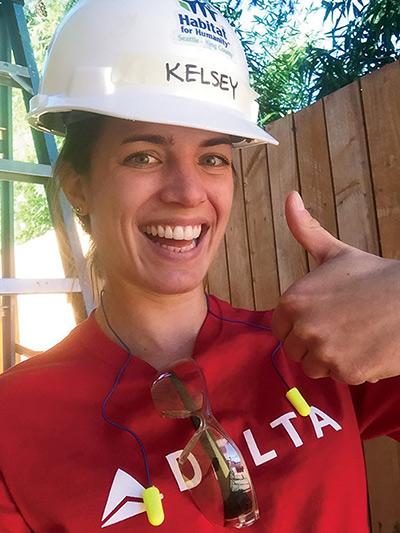 One of the home renovations I worked on was known as the Delta Build, part of Delta's nationwide support of Habitat. I never imagined that the people I met during this six-week build would change the course of my career path. At the close of my AmeriCorps term, I was lucky to have support from many of those Delta volunteers during the rigorous application and training process to become a
flight attendant.
I have been working as a flight attendant with Delta for one year. Similar to nonprofit work, in my job I wear many hats. Whether that's assisting a passenger with physical limitations, speaking Spanish to help someone find their connecting flight, comforting a nervous flier or celebrating an anniversary, my job is all about the people.
To me, service means doing what I can to address the needs of others. Service means utilizing my strengths in a way that can improve someone's day — and even their future.
— Kelsey Reinke, Habitat AmeriCorps alum