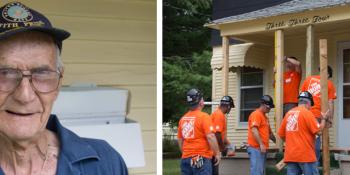 Louis Storra isn't just 90 years old. By his own account, he's "90 and a half."
His home in Grand Rapids, Michigan, is even older — about 100 years old — but now has a new roof, a new handicapped ramp, a reinforced and safer front porch, and more. Habitat for Humanity of Kent County, veterans service group Team Rubicon and volunteers from Team Depot, The Home Depot's associate-led volunteer force, partnered with Louis to make critical repairs that will keep him self-reliant and living independently in his home.
"It's hard to be a homeowner at my age, hard to get around," he says. "It's made it a lot easier."
"He's quite the character," says David Mann, a local Home Depot store manager who volunteered when the repairs were made in 2015. "We had veterans from our stores helping out on the project who were humbled to meet him; we had young people who were hearing war stories from a different era that were just priceless. He was out there all day, greeting people, shaking hands, the most gracious host."
Louis grew up in tiny Wayland, Michigan, one of 13 siblings. He enlisted in the U.S. Navy in 1943 and served in the Pacific Theater under Admiral William "Bull" Halsey as both a ship's gunner and a tailor. After the war, he returned home and became a locksmith and door and window repairman, married his wife Gloria, and buried her 40 years later. The couple moved into Louis' current home in the 1950s.
"The roof was in bad shape, leaking into the house," he says. "When it rained, the water came in. Not a lot, but it messed things up."
The Home Depot Foundation provided funding and Team Depot volunteers to put on a new roof and gutters. Nationally, The Home Depot Foundation's support for Habitat's Veterans Build program has served more than 550 veteran homeowners like Louis with critical home repairs in 27 states.
In addition to the roof, ramp and porch repair, Habitat Kent County installed a new stove and refrigerator donated by Whirlpool Corporation, a new water heater, safety bars in bathrooms, and smoke and carbon dioxide detectors in Louis' home.
"We understand these people fought for our freedoms and liberties," says David, "and we just couldn't be more excited to help them. It's all about home for us. It's about giving back."
Louis knows a bit about giving back. When he worked as a locksmith and a repairman, he frequently would not accept payment from people if he thought they could not afford it.
"I helped a lot of people out," he recalls. "If they needed a piece of glass, I'd cut a piece, and if they couldn't afford it, I gave it to them. If they needed a car unlocked, if they couldn't afford it, I just wouldn't charge them."
He has retired after all the years driving from town to town throughout Michigan in his repair van, but not completely. He still keeps a glass workshop in his garage, and neighbors come by when they need repairs. It's a hobby now, and he doesn't charge them.
Learn more about Habitat's Veteran Build program, and get involved today!
Subscribe to our monthly newsletter
Get our latest news, volunteer opportunities, DIY tips and other ways to get involved with Habitat for Humanity.