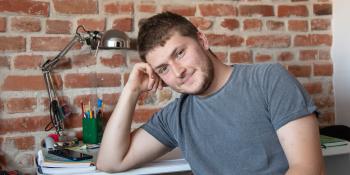 Michał's studio apartment in Warsaw is part of the Attic Project, the result of Habitat Poland's advocacy efforts to help young people who have aged out of the country's foster care system upon turning 18 and are otherwise unable to afford decent housing.
A mural of a majestic red ship with massive masts appears ready to sail right off the wall of his studio. Michał loves the sea, he says. Yet, he has never felt more grounded, and happily so, than in this space.
"It's common practice to direct graduates from foster care institutions to shelters for homeless people. We just object to this," says Magda Ruszkowska-Cieślak, national director of Habitat Poland, which pushed for regulatory changes to allow for supported housing arrangements like this one.
Habitat Poland wants the Warsaw Attic Project to serve as a model for the rest of the country, which has some 75,000 young people in foster care. With partners and volunteers — including Michał — Habitat Poland built seven studios in what was once an unused attic of a building of multifamily units. The young people pay only to maintain their studio and can stay for up to three years.
"The project consists not only to offer shelter but also all kinds of components that will make this transition toward an adult life successful," Ruszkowska-Cieślak says. An educator lives in one of the studios to lend a hand with schoolwork and job searches or just to lend an ear on the challenges the young people face. Habitat also offers trainings on time management, budgeting, energy efficiency and food preparation to the foster care alumni.
Without the Attic Project, Michał is not sure where he would be today. "I think I wouldn't have made it," he says. Instead, he is finishing up his studies in history and plans to teach it.
This studio and the support he received through the Attic Project have helped him become independent and responsible, Michał says. Plus one more thing — he is proud of the man he has become. "I know I have a place to come back to, a place to study, a place I feel secure," he says. "It has given me a home. For sure, I will be sad to leave this place. At the same time, I will be prepared to leave."