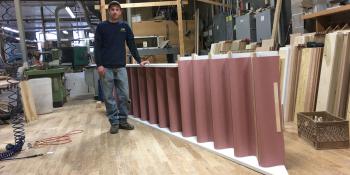 Paul's work at a New Jersey company that makes and installs stairs gives Habitat families more than just a way to climb from one floor to the next. It helps the families raise themselves up to a better place in their lives.
Paul will soon add one more Habitat family to the list of the many he has helped — his own. He is building his own home with Morris Habitat and Paterson Habitat. "I actually spent the day in the shop when the order came in for our stairs," he says, "and I got to build my own stairs that are now in the house."
As completion of his home nears, Paul can see what it will mean to his family. It will be a place where he, Koren and their two little children can live more affordably. The mortgage will be "significantly lower" than the rent on their tiny, two-bedroom with no laundry. "It was a pretty rough situation," Paul says. "We needed something better, more stable."
In their new home, the children, 3-year-old Jaysyn and 6-month-old Connor, will have room to grow. They will have a nice yard, neighborhood kids to play with and a great school nearby. "It will be a stable home for the kids to grow up," Paul says, "for us to stay together and be financially comfortable."
"It will be a stable home for the kids to grow up, for us to stay together and be financially comfortable."
— Paul, Morris Habitat homeowner
Paul has built and installed many sets of stairs knowing that they would go into Habitat homes. A recent job took him to a home being built with nearby Habitat Bergen where he got to speak with volunteers and share his story. "It's pretty cool to see how everyone relates," he says.
As Paul installed the stairs, he thought of the impact that he was making on the family's life. "I know what it's like to be the homeowner," he says. "I thought, 'If this was my house, I'd love for the company to take their time, do a nice job.' That's exactly what we did."
Paul has a vivid picture in his mind of what his family's first day in their new home will look like. It's the culmination of all that it will have taken to get to that day — the financial classes, the money saved, the hundreds of sweat equity hours fit in between work schedules and raising kids.
"The first night where we all sit down and have dinner together, sit back on the couch and breathe, and take it all in that this house is ours," Paul says. "I think we're really looking forward to that moment."