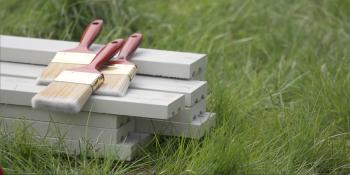 Summertime is upon us, and as we go through our "to do" list for outdoor living, it is important to be aware of potential hazards so that we all stay safe and well during this time of the year. Here are some tips to remember:
Place tools not in immediate use out of the way, and not on the floor, on steps or on ladder rungs. A safer place would be on a shelf, counter or — better still — in a tool pouch.
Make sure you keep your ladders away from power lines. A fall from a ladder can be very serious. Make sure your ladder is in good repair and is securely positioned and/or that someone is helping you brace the ladder.
Remember to cover holes when someone is not there to warn others of their presence. Falls or accidentally stepping into gullies, ditches, floor openings or holes for planting trees can cause severe injury.
Checking all extension cords and electrical tools for missing insulation, broken wires or damaged plugs before use will help protect you against electrical shock.
Mowers, tillers, weed eaters and other outdoor equipment can cause severe injury; maintain safety switches and observe all safety rules when using your outdoor equipment. Keep hands and feet away from sharp and/or moving parts, such as tiller or mower blades and weed-eater cutting line. Make sure children don't use any outdoor tools without adequate supervision. Always remember to wear long pants, no loose clothing, appropriate footwear and eye and ear protection. Also remember that fires can be started from sparks caused by mower blades striking rocks in dry grass.
Keep your house's gutters clean. Clogged gutters can overflow in heavy rains and could cause drainage or flooding issues around your home.
Check gas grill hoses for cracking, brittleness, holes and leaks. If any of these critical parts are in need of repair, seek assistance from your home improvement store or qualified appliance repair person.
Also very important to remember: If you are working outside on a hot day, wear a hat and drink plenty liquids to prevent heat stroke!
Stay safe and enjoy your time outdoors this summer.
By Jack Blanchette, Habitat for Humanity International's senior specialist of safety and security
Subscribe to our monthly newsletter
Get our latest news, volunteer opportunities, DIY tips and other ways to get involved with Habitat for Humanity.