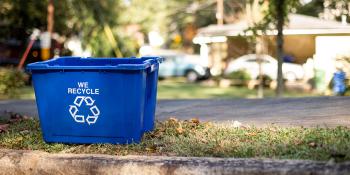 Sustainability and stability: Donating a car gives back in unexpected ways
Could old cars become a sustainable source of income for your local Habitat for Humanity and clean up the neighborhoods in your community? Absolutely. This November 15, America Recycles Day provides an opportunity to rethink what recycling cars could mean for you.
This nationally recognized program started by Keep America Beautiful promotes and celebrates recycling through education and community events. While most people have pledged to recycle plastic bottles and caps, please consider the potential benefits of recycled cars.
In 2016, an EPA study found that recycling and reuse activities in the United States lead to 757,000 jobs, $36.6 billion in wages and $6.7 billion in tax revenues. For every 1,000 tons of material recycled, 1.57 jobs were produced. The automotive recycling industry alone provides nearly 100,000 jobs. Ferrous metals, largely found in cars, and aluminum are the second and third highest recycled materials contributing wages, employment and tax revenue.
Equally as important as the economic value of recycling is the reduction of pollution and environmental waste. Recycled car materials save 85 million barrels of oil from being used to make new car parts. A study conducted at Worcester Polytechnic Institute found that 2.2 million tons of the leading greenhouse gas carbon dioxide was eliminated because recycling reduced the need to refine new materials.
For 14 years, Habitat for Humanity's Cars for Homes national vehicle donation program has generated funding to build affordable homes in local communities across the United States. Through Cars for Homes, Habitat accepts almost all vehicles, including cars, trucks, motorcycles, recreational vehicles, boats, snowmobiles, farm equipment, construction equipment and even airplanes. Since its inception, Cars for Homes has accepted more than 75,000 donated vehicles for recycling, raising much-needed funds for the Habitat mission.
Revenues from the sale of donated vehicles are automatically disbursed to local Habitat for Humanities based on the ZIP code of the donor, unless the donor specifies otherwise. Over the last five years, car donations provided more than $12 million for participating Habitat affiliates, helping build stability, security and shelter in partnership with families in local communities.
This November 15, reset your giving plans and consider donating a car because giving can come in unexpected and rewarding ways. Car recycling can create new jobs and improve our environment, as well as support our mission to build homes. Let's pledge to that.
For more information and to start your car donation, visit our Cars for Homes page or call 1-877-277-4344.