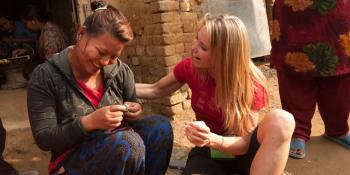 Volunteering with Habitat for Humanity offers you the chance to help families build strength, stability and self-reliance through shelter. It also offers you the opportunity to travel.
Stephanie Diedrich has traveled with Habitat to New Mexico, Kentucky, the Philippines and El Salvador. The 22-year-old Wisconsin native is also planning an upcoming trip to build in Vietnam.
"Each Habitat build is always different in its own unique way, and each one offers the opportunity to grow bonds with people you would've never otherwise connected with," she shares. "Seeing everyone come together on the last day, no matter the circumstance or language or what have you, is a blessing. We are all people that want the same things: to help with our hands and to love with our hearts."
Habitat for Humanity builds in nearly 1,400 U.S. communities and more than 70 countries worldwide. Find an opportunity to travel and build that's right for you in the list below:
Each year, thousands of students participate in Habitat's Collegiate Challenge trips. Volunteer groups of five or more travel to host sites all over the United States to work for a week in local communities. The work can include new construction, improving existing buildings or other volunteer efforts.
Volunteers like Stephanie travel all over the world through Habitat's Global Village volunteer trips. Dozens of destinations are available throughout the year. Look for specialty trips like the ones that focus on green building, community development or disaster recovery.
Did you know that volunteers work in Habitat offices in the U.S. and around the world? Terms for international volunteer positions can be from six months to a year, and the jobs vary depending on the needs of the office requesting help. In the U.S., volunteer positions are usually for at least one month at Habitat's headquarters in Americus, Georgia, and Atlanta, Georgia.
Habitat partners with the Corporation for National and Community Service to place AmeriCorps members in locations where they can truly do wonderful things. AmeriCorps members serve in a variety of roles all over the United States, including community engagement, volunteer leadership, resource development and program development. Members often work directly with families and volunteers, as well as use their skills to build long-term solutions to housing issues.
Habitat's RV Care-A-Vanners is a volunteer program for those who travel the United States and Canada in a recreational vehicle and wants to build with Habitat. The Care-A-Vanners welcome volunteers of all ages. Take in the great sights of the open road and enjoy the open arms of the communities that welcome you as you work to build strength and stability through shelter.
Find more ways to get involved with Habitat today, and help more families eliminate barriers to better, healthier, more financially stable lives!
Subscribe to our monthly newsletter
Get the latest Habitat news, volunteer opportunities, DIY tips and more ways to get involved.