After his service in the U.S. Navy, managing a variety of small businesses and successfully shepherding their children to adulthood, Arlett and Ruby were looking forward to leading a quieter life in retirement.
In 1986, in rural east Texas, they designed and built their dream home, the place they planned to grow old in. In its 32 years, their loving home protected them from a tornado, gave them space to care for their own aging parents and oversaw countless family celebrations.
But as the couple aged, their dream home did, too — eventually creating more work that the two could keep up with. "Our floors were in bad shape, and our siding was in terrible shape," laments Ruby. "We just weren't able to financially or physically take care of it."
Uneven flooring, rotting porches and sloping steps became a daily challenge for Ruby, who confesses that she and Arlett already "have a tendency to fall once in a while."
In light of the growing safety risk, the couple reached out to Habitat for Humanity of Smith County for assistance. Based on their income level and Artlett's service in the armed forces, the couple was immediately approved for Habitat's Repair Corps, a program funded by The Home Depot Foundation that focuses on helping veterans and their families improve their homes. The program seeks to serve the individuals who have sacrificed and served their country by assisting with critical repairs that make their homes better, stronger and safer.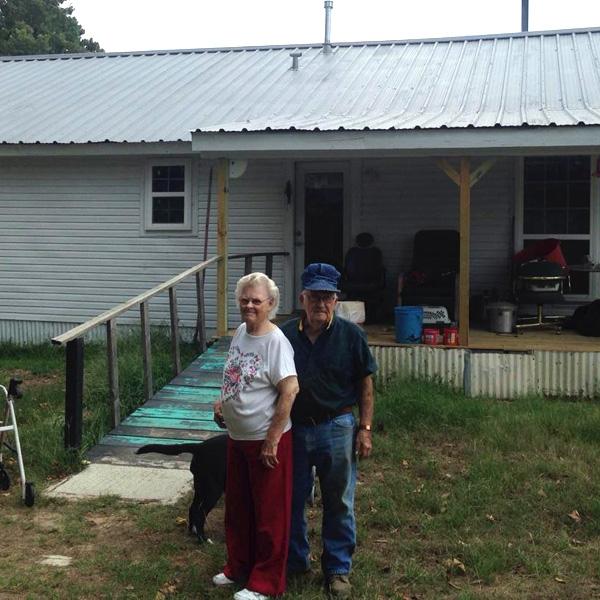 Restoring independence
Within weeks, a Habitat construction crew replaced Artlett and Ruby's floors, windows and doors. The team repaired the crumbling front, back and side porches. They put up new siding around the outside of the house while tacking up new insulation around the inside. Since they had pulled out most of the furniture to complete these tasks, the crew also added fresh paint to the rooms as a special treat just for Ruby.
While she makes her gratitude for all the tasks completed clear, it's the new stair lift, and the restored independence it brings her, that she prizes the most. "Oh, it's something!" she says delightedly. "Before, I had almost fallen going down to the basement, and it scared me."
Now, the motorized chair transports her up and down the stairs easily, allowing her to fetch her homegrown, home-canned goods from the cellar. "I'm not a bit worried about going down there now," she beams. "I didn't think I'd ever be able to have anything like that in my lifetime."
Finding help with Habitat
Arlett and Ruby are just one of 1,000 families – and counting – who have been assisted by Habitat through Repair Corps since its launch in 2011 with funding from The Home Depot Foundation.
Artlett's fellow Navy veteran Marguerite is another.
Marguerite and her husband Darnell purchased their nearly century-old home in 1997, right after they wed. For then twenty-something Marguerite, buying the house cemented her status as an adult. But with adulthood came unexpected expenses. "Every dime we had went into buying that house," she explains. "So we didn't have the resources to do any remodeling, upgrades or any of that."
As life went on and priorities shifted, especially after the birth of the couple's son, a growing list of much-needed repairs took a back seat. Darnell's declining health and mobility made Marguerite realize the work could not wait any longer.
"Because of my husband's health challenges, he has to be at home," says Marguerite. "And because he has to be there, I want and need him to be comfortable and to be safe."
She realized she couldn't go it alone. After the persistent nudging of a friend, she turned to Habitat Philadelphia. Her hesitation to apply speaks to her heart for service. "I kept thinking 'Oh, somebody else needs it more than me,'" she says. But looking back now, she admits, "If I hadn't found out about this program, we'd still be living in disrepair and squalor."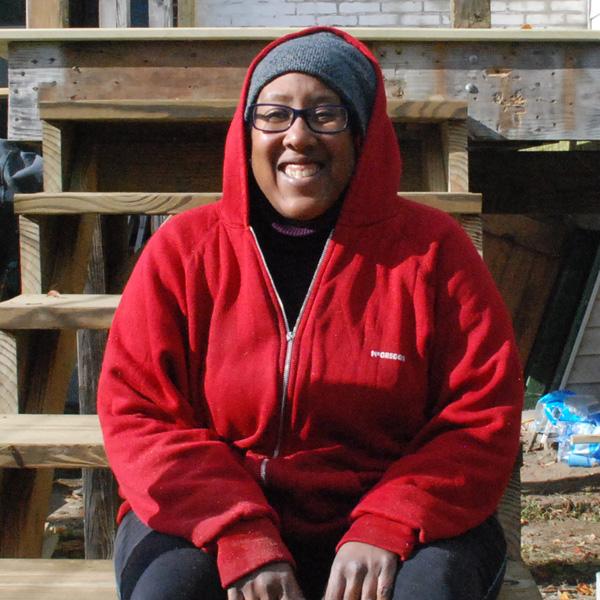 Much-needed repairs and improvements
With the help of Habitat Philadelphia, the home received much-needed structural, plumbing and electrical repairs along with a full kitchen overhaul and accessibility modifications.
With the installation of grab bars in the bathroom, fortification of loose front steps and the addition of handrails, Darnell feels more at ease moving about. Without these integral changes, "there's a lot of things I wouldn't be able to do around the house," he says.
For Marguerite, the repairs are a relief as she continues to make a healthy space for her husband and son. Even better, she says, is the community that came behind her to make these improvements possible.
"I appreciate that Habitat took the time to approve us and that they had such dedicated, diligent, courteous, kind employees that went about their business in transforming our home," she says "It's awesome that Home Depot invests in us veterans just as we invested in our country."
Marguerite confesses that before the work was completed, she would spend more time out of the house than in it to avoid the stress and constant reminders of the issues awaiting attention. "I tried my very best not to be at my house a lot," she says. "But now, I get a good feeling when I unlock my front door."