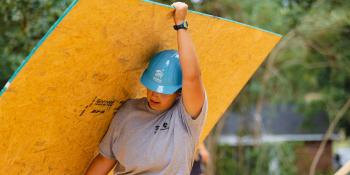 Volunteering tips: What you need to know to prepare for a Habitat build site
Volunteering with Habitat for Humanity is fun, fast-paced and fulfilling. There are many ways to get involved.
Although different build sites and local Habitat affiliates have their own unique needs, here are some important general tips to keep in mind when preparing for a day volunteering on a Habitat build.
Know you're in good hands
Usually, we don't ask our new volunteers to bring anything except a great attitude and a willingness to be flexible.
Safety is our number one priority.

We discourage jewelry, loose-fitting clothing and items that could contribute to an accident.

Wear sturdy close-toed shoes.

We stress dressing for the weather, such as sunscreen and a hat in summer.

We try to be specific about beginning times, ending times and provisions for lunch. Check with your local contact for specific information.
Be ready to learn and don't be afraid to ask
You don't need to have prior construction experience to help with a Habitat build. Just come out with a positive attitude and a willingness to learn.
Habitat provides the tools and supplies you will need while volunteering.

Instruction is provided before you will be asked to complete a task.

A site supervisor or construction leader will be onsite to make sure you feel safe and empowered.

Speak up if you have questions.

Ask for help if you need it!
Get comfortable
No matter your skill level, be willing to work and probably get a little dirty. Remember, you're truly helping Habitat partner with families for decent, affordable shelter.
Feel ready to head for a build site? Discover where Habitat is building in your community.
Contact a Habitat near you to get involved with your next build.