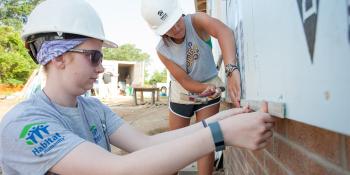 Volunteering tips: Be ready for a Habitat build site
Volunteering with Habitat for Humanity is fun, fast-paced and fulfilling. There are many ways to get involved.
Headed for a build site? Find out where Habitat is building in your community and prepare for your day with these tips.
Know you're in good hands
Usually we don't ask our new volunteers to bring anything except a great attitude and a willingness to be flexible.
We try to be specific about beginning time and ending time and provisions for lunch. We stress dressing for the weather, such as sunscreen and a hat in summer. We discourage jewelry, loose-fitting clothing and items that could contribute to an accident. Safety is always priority no. 1.
My standard line at the end of the day is that I like first time volunteers, but I love repeat volunteers, and that's always expressed with grateful appreciation.
— Steve Matheney, Macon Habitat construction coordinator
Be ready to learn and don't be afraid to ask
You don't need to have prior construction experience. Just come out with a positive attitude and a willingness to learn. When I first started with Habitat, I had never even swung a hammer, could barely lift anything, had no construction skills or knowledge, yet everyone welcomed me to the construction site.
Don't be afraid to ask questions of the volunteer coordinator, site supervisor or even other volunteers. I have learned a lot by asking, and asking questions can save a lot of time. Don't be afraid to admit that you don't know something.
— Amanda Hardman, Southeast New Hampshire Habitat volunteer crew leader
DIY tip #112
Wear a magnetic band around your wrist when working on household projects. The band keeps all screws in one convenient place.
Get our guide with over 150 household tips from Habitat supporters like you!
Get comfortable and be willing to work
All skill levels — from willing learner to professional builder — are welcome. Instruction is provided, and volunteers are never required to do any work they're uncomfortable doing. Wear comfortable clothes that can get dirty and sturdy, close-toed shoes.
Mostly, I like for volunteers to bring a willingness to put in a good day's work and to know that they are truly helping Habitat provide families a decent place to live in their community.
— Jamie Crow, Waco Habitat director of construction
Contact a Habitat near you to get involved with your next build.