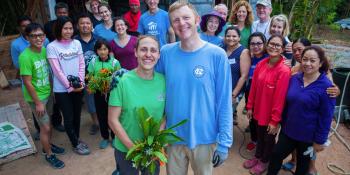 "We make a good team"
Lisa Ofstedal Wahlstrom and Andy Wahlstrom
Lisa and Andy don't need dishes or linens, but they knew their family and friends wanted to do something to celebrate their marriage. So the couple asked for donations for a Habitat Global Village volunteer trip to Thailand, where they honeymooned helping a local family build their home.
"It was the perfect decision," says Andy. "Neither of us had been to Southeast Asia, so getting to see a new part of the world was also a real draw. And it feels great to have a tangible reward for your work."
Andy and Lisa travel extensively for their jobs in the U.S., and often in different directions. Ironically, volunteering with Habitat on the other side of the world offered the couple a chance to take a breath and spend some time together. "Instead of go, go, go, the trip was a real break from our work stress," Lisa says. "It was nice to slow things down and work with our hands."
Lisa had volunteered abroad before, teaching English in Costa Rica. The trip to Thailand was her first Habitat experience and her first foray working construction. Andy participated in several Habitat builds in college and then in Ethiopia with Global Village after graduate school.
On their honeymoon, Lisa and Andy worked side by side putting up walls. "We got along really well, which is good since we just got married," Lisa laughs. "We make a good team."
Andy seconds that. "We were both probably more meticulous than we needed to be, but we wanted to make sure everything was up to the specs of the site supervisor," Andy says. "Of course, we didn't speak any Thai so we would gesture, and he would gesture and give us the thumbs up when we did something right."
Lisa and Andy also worked alongside the family partnering with Habitat for Humanity Thailand who will live in the house they all built together. "They cooked us meals, and we met their kids. That was really neat," Lisa says. "At the ribbon cutting ceremony, when the family got the keys to the house, the mother got pretty choked up. She thanked us for traveling so far to help them out."
Habitat Thailand took the volunteers to meet another family whose home was complete. "That mother gave us all a hug even though she didn't know any of us. She was still so emotional at having a home."
Their honeymoon is over, and Lisa and Andy are back on the road for their jobs. But their trip to Thailand continues, if only in the telling. "I like the cultural exchange of these trips," Andy says. "In a world where there are a lot of misconceptions, they get to know us a little better and we get to know them a little better. And then I get to report to the people back home that the world isn't as scary as what you read."
Subscribe to our monthly newsletter
Get the latest Habitat news, volunteer opportunities, DIY tips and more ways to get involved.