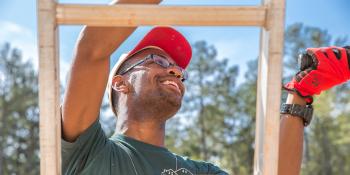 What is alternative spring break?
Students looking to make a difference while enjoying time off from school can take part in what has become known as alternative spring break.
Instead of cutting loose on the beach, students can cut brush to maintain hiking trails. Rather than hitting the slopes, they can hit nails to improve housing alongside homeowners.
These alternative spring breaks allow students to serve communities in a meaningful way. They can travel, meet new people, and feel the satisfaction that comes from working to improve communities — and lives.
Students have many options when looking for ways to contribute during breaks from school. Organizations such as United Way, Global Citizens Network and Habitat for Humanity offer volunteer opportunities during spring break.
More than 10,000 high school and college students participate in alternative spring breaks with Habitat for Humanity each year. Many participate through Habitat's Collegiate Challenge program, a year-round alternative break program that offers students 18 years of age and older the opportunity to spend one week working in partnership with a local Habitat and future homeowner families.
Learn more about Habitat's Collegiate Challenge and other programs near you.
Students arrive on Day 1 and participate in activities that help them get to know the community, the family with whom they are building and each other. The next five days are spent working on the build site, with evenings free for activities, bonding with the team or just to relax.
Habitat groups generally range from a minimum of five people to up to 40 students and travel to hundreds of locations to help build or improve homes all over the U.S., including Alaska and Hawaii. Church groups, service learning clubs, fraternities and sororities, and Habitat campus chapters (local Habitat groups on a high school or college campus) are groups that often sign up for spring break volunteering through Habitat for Humanity.
No matter the task at hand and no matter their chosen destination, students can get a lot out of traveling to volunteer during spring break, says Evan Davies, a Habitat supervisor who works on engaging young volunteers. In every instance, they get to enjoy working alongside others and can see firsthand how their work improves lives.
"They're traveling, but they're not tourists."
DIY tip #64
Carbonated water works on many stains. Pour on a generous amount to soak the stain, then blot up with towels. Repeat as necessary.
Get our guide with over 150 household tips from Habitat supporters like you!