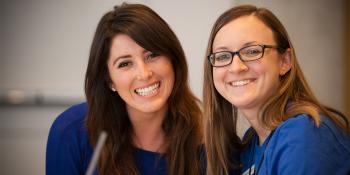 Campus chapters
You can learn about campus chapters and how to get involved within your local community.
What is a campus chapter?
A campus chapter is a group of students who are passionate about helping people build better lives for themselves, and are ready to take the next step to lead the charge at their school to help fulfill Habitat's mission. Each campus chapter is a student-led, student-initiated organization on a high school or college campus that partners with the local Habitat for Humanity to fulfill the four functions of a campus chapter.
What do campus chapters do?
Campus chapters set the foundation for Habitat's work related to your school. This includes helping set up volunteer opportunities, educating your school and community around issues related to housing and Habitat, fundraising in your local area to support more housing opportunities and speaking with your community officials to prioritize shelter.
Campus chapters are guided by four functions:
Direct service
Campus chapters partner with their local Habitat volunteering on new home construction, rehabilitation, rehab, neighborhood revitalization, ReStore and office tasks.
Fundraising
Campus chapters raise funds to support the work of their local Habitat and Habitat for Humanity International. Chapters may contribute through various fundraisers in partnership with their local Habitat or toward the tithe program.
Advocating
Campus chapter leaders and members must advocate for affordable housing because building alone will not achieve our vision of a world where everyone has a decent place to live. Being a Habitat advocate means raising your voice to shape policies to serve people in need of decent housing.
Educating
Campus chapters educate others on their campus and in their local community about the importance and need for strong, stable housing and what Habitat does to increase access to housing solutions.
Does my school have a campus chapter?
With nearly 500 campus chapters around the country, you can see if your school already has an active campus chapter.
How do I start a campus chapter at my school?
Do you already volunteer with Habitat and you are ready to take your involvement to the next level? In order to gain access to greater resources and support, your group must partner with a nearby local Habitat organization and be chartered by Habitat for Humanity International to be officially recognized.
Step 1: Read the Prospective Campus Chapters Toolkit.
Before you apply to become a Habitat for Humanity campus chapter, be sure to read the Prospective Campus Chapters Toolkit (.pdf). This toolkit is a collection of resources to help you learn more about the program, determine if a campus chapter is a good fit for your school and how to start organizing your campus chapter. Please be sure to complete the steps in the toolkit before you fill out the interest form.
Step 2: Submit an interest form.
Once you have determined a campus chapter is a good fit and your group is ready to start the process, please fill out the campus chapter interest form found in the Prospective Campus Chapters Toolkit.
A Habitat for Humanity International representative will be in contact with you within two weeks of receiving your interest form with your next steps to becoming an official campus chapter.
What is required of campus chapters?
It is important for all campus chapters to meet our annual requirements in order to maintain good-standing status with Habitat for Humanity International. Below are quick links to help chapters complete these requirements and have a successful year.
Dues are no longer a requirement to be a campus chapter. We hope chapters redirect those funds to their covenant affiliate or tithe to a global partner.
Annual report and covenant
The annual report and covenant are now combined into one document, which will only require electronic check boxes from the campus chapter president, faculty advisor and affiliate executive director or board president.
These annual reports are the only means that Habitat for Humanity International has of monitoring chapter activity and recording all the great things chapters are doing. It is vital for our accurate reporting and record keeping that chapters submit a report each year.
The covenant renews the relationship with your covenant affiliate and the chapter's commitment to our mission. The annual report and covenant are due by May 31 each year. Campus chapters who fail to submit their annual report and covenant by May 31 will be made inactive.
If you are an active campus chapter, you can complete the report and covenant and submit it electronically.
Chapters can also access the Campus Chapter Requirements Packet on My.Habitat.
Contact
For more information or questions, you can email campuschapters@habitat.org. You can also find us on Twitter at #CampusChapters.
Youth Programs newsletter
You can stay in touch with all the latest Habitat news and volunteer opportunities for youth and young professionals. Sign up for our newsletter today.