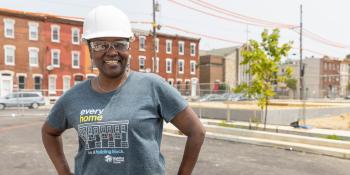 What neighborhood revitalization looks like in two communities
In 10 cities across the United States, using an innovative approach known as the Quality of Life Framework, Habitat for Humanity currently works with local partners to help residents harness their collective power and develop the tools they need to transform their struggling communities into ones of opportunity.
With a focus on lifting up and bringing lasting change to neighborhoods, coalitions are implementing solutions as unique as the neighborhoods themselves. Here's a closer look at efforts underway in Philadelphia, Pennsylvania, and Muncie, Indiana — and two residents who have made the cause their own.
Philadelphia, Pennsylvania
"See the ants?" Tommy Joshua Caison stops weeding to gesture to a colony scurrying in every direction. "I don't want to disturb them. They belong here, too."
Caison, founder and executive director of North Philly Peace Park, has become adept at finding teachable moments in the everyday for the small parade of kids that often trails him as he tackles projects around the park. Their eagerness is what inspires Caison to keep dreaming bigger year after year — for both the park and the people it serves.
For many, the space has become something of a second home — an escape from the city blocks that lie beyond the gateless fences. Monthly Self-Care Saturday events offer fresh produce, the opportunity to meet with a nutritionist, speak with a therapist or take a yoga class. Recently, the park became home to Green Wall Street, a green workforce development program and makerspace.
While the North Philly Peace Park has developed programs to help every age group, there is a particular focus on young people. The park, for example, has served as a classroom for a STEAM educational program for 160 neighborhood kids. Caison knows young people have the potential to lead this neighborhood of Sharswood in a positive direction — because he's seen it here in the park. "The sweetness, the intelligence, the curiosity, the wanting to help, to make an impact — that's real."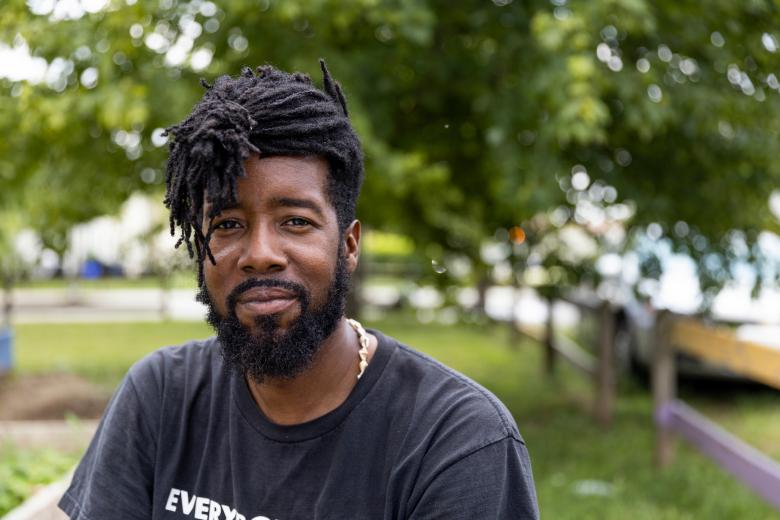 For many neighborhood residents, making ends meet is a daily struggle. The neighborhood is both a food and pharmacy desert, leading to and exacerbating high rates of diabetes and cardiovascular diseases. Housing that is both up to code and affordable is extremely sparse, forcing many families to choose between having money for other needs or protecting their children's health. Crime has proliferated. Employment opportunities have suffered.
However, Caison, a third-generation Sharswood resident, says it's time for these cycles to be broken — and that starts by changing the neighborhood itself. "It comes down to the stimulus that you are exposed to between that young age and being an adult," he says, nodding toward a 10-year old jumping from log seat to log seat in a circle around Caison. "North Philly Peace Park hopes to be a disruptor of any type of cycle that would lead to that young man ending up in prison or having a heart attack at a young age because of his cholesterol levels. We have been working with partners to address this reality of the need for a new environment."
Habitat Philadelphia is one of those supporting partners. Recognizing that the needs of Sharswood extend far beyond housing, the team is looking at a holistic strategy for revitalization — one driven by the residents themselves.
The impact of this collaborative approach can already be felt. To show their dedication to the well-being of the neighborhood, Philadelphia Housing Authority relocated their headquarters there. Construction of Habitat homes has begun to increase opportunities for affordable homeownership, while critical home repairs help existing homeowners improve their homes. A shuttered high school has reopened. Beautification efforts, including neighborhood cleanups, are underway. There are plans for a grocery store to open soon.
Caison is excited for the future. It's hard not to be. Talking once again to the boys who follow him through the park, he returns to the ant colony.
"As I was pulling up the weeds, I disrupted their colonies. All because I had my vision of what I wanted the path to look like. Even the littlest person can be affected by activities that other people do," he says.
"We have to be mindful about that. We have to consider and care for everyone."
Muncie, Indiana
Debra Simmons had her doubts. All the talk about turning around her neighborhood was likely just that. "You hear a lot of promises from people over the years," Simmons says. "You don't see anything happening."
Still, Simmons decided to show up at a local church for a meeting of the 8twelve Coalition, made up of residents and some two dozen community groups and businesses bent on revitalizing a once thriving area hit hard by plant closures, the opioid crisis and overwhelming skepticism. She timidly put up her hand to volunteer on the beautification committee because, she says, "I like flowers, and I like to make things look nice."
As the 8twelve Coalition has taken root, Simmons has put her hand up more and more. Today, she is one of the leaders of the coalition and a force behind much of the change taking place. "Debra is out there every day on the street, encouraging other residents to take action," says Jena Ashby, director of impact and programs for Greater Muncie Habitat. "One of the biggest changes we have seen is the connectedness of the neighborhood."
Results so far include new and rehabbed homes as well as the demolition of dilapidated ones. Community gardens sprout vegetables and resident artwork. With 1 in 3 homes in the 8twelve's target area vacant, residents and coalition members have painted pieces to resemble window panes and boarded up abandoned homes to make them look occupied and to deter trespassers.
The coalition is developing a plan for a largely vacant corridor that could include a health clinic and hopefully a grocery store to replace the one that closed there two years ago.
For 60-year-old Simmons, getting resident buy-in is about creating lasting change for the neighborhood.
She bought her house in 2001, and "I fell in love with it and the neighborhood," she says. Her tree-lined street was filled with families who all knew and looked out for one another.
Unfortunately, hard times were just around the corner. Muncie's auto industry was drying up as manufacturing was moving overseas. A fenced-off, 60-acre brownfield that sits in the 8twelve target area is what's left of a factory that closed in 2006. Then came the Great Recession. Many of the houses that generations of factory workers had called home fell into disrepair or were abandoned.
The memory of what used to be is what drove Simmons to put up her hand. "You have to start somewhere," she says. "If one person starts doing one thing, and somebody sees it, the next person down the street could say, 'Let's help her.'"
She flies a "Love Grows Here" flag on her tan-colored house. "My aspiration is to make this a place where people love to live," she says. "Then you get the kids. Then they want to continue to live here and keep the improvement going."
Simmons sits on multiple committees of the 8twelve Coalition and attends conferences to learn more about how to revitalize a neighborhood. She mows the pocket park across the street from her house that was purchased and developed by the coalition. She helps to organize neighborhood cleanups.
Residents are taking more pride in the community, she says. How does she know? It used to be a dumping ground for old tires. "We got almost 300 tires the first year. The next year we got about 60. This year, we are down to 30," she says. "It makes an impact if you keep an area clean and picked up. People have a little more respect knowing that people are out working, trying to make the neighborhood a better place."
Habitat's participation in resident-led efforts like these is made possible through financial support from The Robert Wood Johnson Foundation, as well as Lowe's, Wells Fargo Foundation and General Motors. Local partners also are investing in this work in each community.