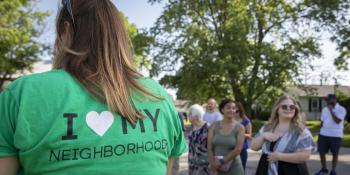 What neighborhood revitalization looks like in two communities
Across many cities in the United States, Habitat for Humanity partners with local organizations to create neighborhood coalitions and empower resident changemakers to transform their struggling communities into ones of opportunity. Guided by our innovative Quality of Life Framework, we center residents to spark lasting, community-centric change.
Learn more about how Habitat's holistic neighborhood revitalization work has made a profound and lasting impact in two cities.
Muncie, Indiana
Thomas Park/Avondale and South Central were once thriving neighborhoods in the southside of Muncie where a manufacturing plant employing thousands of residents served as a hub for innovation, investment and community. When the factory shuttered in 2006 following years of cutbacks, lifelong resident Jena Ashby says the southside suffered through "periods of hopelessness," marked by widespread homelessness, unemployment and a devastating opioid epidemic.
Jena, however, says she has seen the neighborhoods' momentum begin to shift toward job growth, health and food equity, housing improvements — toward hope.
The 8twelve Coalition, a resident-led neighborhood alliance created by Greater Muncie Habitat, was the catalyst for much of that momentum. "The 8twelve Coalition is all about collective impact," says Jena, director of 8twelve. "How do we come together to have impact in the areas that neighbors have said are important to them?"
The coalition has maximized its impact through five action teams — housing, business development and employment, education and family support, beautification, and wellness — each composed of resident leaders and local partners.
Since 8twelve's launch in 2015, the coalition has worked with residents to inspire noticeable change throughout Thomas Park/Avondale and South Central, including:
Building, repairing and restoring hundreds of homes

through Habitat and local housing partners.

Creating a pocket park

where children can swing, color and play basketball from sun-up to sun-down.

Investing in community gardens where neighbors can pick nutrient-dense vegetables.
In addition, Open Door Health Services, a safety-net health provider in East Central Indiana and a key partner and sponsor of the coalition, is leading the development of a health clinic in Thomas Park/Avondale on land purchased by Habitat, a move to improve equitable access to health care in an historically underserved area.
Longtime South Central resident and Muncie Habitat CEO Lindsey Arthur says the coalition has accelerated change by empowering residents to lead the revitalization. "I think the biggest change that I've seen in my neighborhood has been residents actually feeling like they have a voice. We have agency. We have will. We have power to actually bring about the things that need to happen in our community."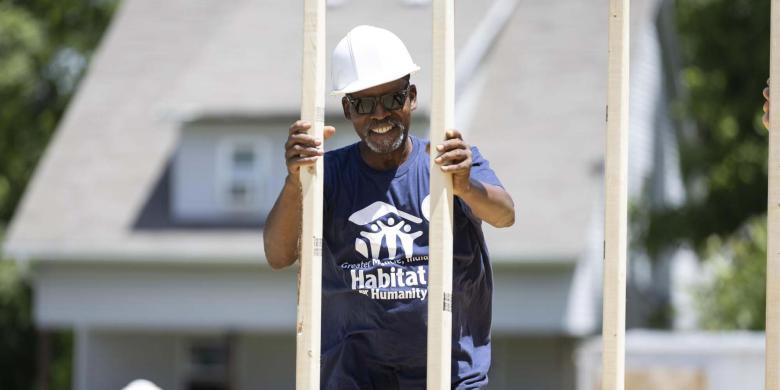 Philadelphia, Pennsylvania
Habitat Philadelphia has leveraged the same people-centered, resident-driven approach to revitalizing two historic neighborhoods in North Philadelphia. After years of disinvestment, residents in Sharswood and Brewerytown are delighted to see new community spaces and businesses pump hope and investment into their beloved neighborhoods:
A grocery store serving discounted health food to residents previously in a food desert.
A fenceless community garden inviting residents to learn about ecology.
A recreation center offering a variety of classes for all ages.
Crucially, the efforts to enrich the neighborhoods have been locally led, with organizations like Habitat Philadelphia supporting residents on their journey toward power building and neighborhood revitalization.
Habitat Philadelphia and a neighborhood advisory committee teamed up in 2018 to co-create the Brewerytown-Sharswood Neighborhood Coalition to better activate and amplify resident voices in the revitalization work. The coalition has been pivotal in leading neighborhood projects — like Play Everywhere Sharswood — that unite and engage their neighbors to lead community improvements.
The Play Everywhere Sharswood project invited residents to memorialize neighborhood heroes through interactive and educational monuments that were built and installed at three popular gathering spots within the community. The monuments preserve Sharswood's rich Black history by honoring activists, actors, athletes and scientists born in or connected to the neighborhood. While Carrie estimates 125 residents came together for the project, countless more interact with these Play Everywhere stations daily.  
The number of residents joining coalition meetings and raising their voices has been critical for multiplying change within the community. Habitat Philadelphia and the Brewerytown-Sharswood Neighborhood Coalition co-facilitated a Real Talk session with residents to better understand the issues that truly matter to the neighborhood.
In addition, Habitat Philadelphia has taken a prominent role as an affordable housing developer and repair partner in the community. In Sharswood and Brewerytown, Habitat Philadelphia has:
Completed dozens of home repair projects.

B

uilt new, energy efficient homes in partnership with residents.

A

ctivated funding for exterior façade upgrades.

S

ecured free estate planning services for homeowners.
Habitat's participation in resident-led efforts like these is made possible through financial support from The Robert Wood Johnson Foundation, as well as Lowe's, Wells Fargo Foundation and General Motors. Local partners also are investing in this work in each community.