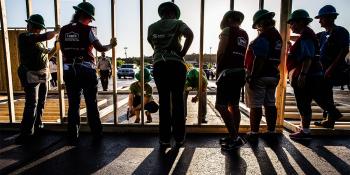 Women empowering women and their families
Meet just two of the women whose lives are changing, thanks to this annual event.
Editor's note: On April 28, women volunteers gathered in 10 cities across the U.S. for a different kind of Girls' Night Out. With the help of Lowe's Heroes employee volunteers, they framed houses as part of Habitat for Humanity's National Women Build Week. The week — April 30 to May 8 — will bring together more than 17,000 women to build or repair homes alongside 650 families, progressing toward Lowe's and Habitat's goal to help 1,000 families have safe, stable homes by the holidays.
---
My name is Raven, and I am the proud daughter of a soon-to-be Habitat homeowner.
When my family got the news that Pikes Peak Habitat was going to help us achieve what we thought was only a dream, our eyes filled with tears and our hearts with gratitude.
As we go through this journey, I have to give thanks and praise to both Habitat and my mom. I believe a big part of the reason we are receiving this helping hand is because my mother had the courage to reach out. You see, my mother has always strived to give her children the best that she possibly can — whether that meant making a 4-hour commute daily just to finish her college classes or working two jobs to make ends meet. If there is a way, my mom will find it.
I have learned a lot of life lessons just by watching my mother. Though I am still a teenager, I am proud to say that I am a young woman that believes that I can accomplish anything and everything that I set out to do.
Women can truly do it all. It's all about the will and determination, but most importantly the heart. The women I know don't hide their heart. We wear it on our sleeves like a badge of honor. To us, it's not a sign of weakness, but a sign of courage. With every beat, it reminds us that there is still a moment, a chance, a possibility.
---
My name is Danielle, and I was raised by a line of strong women starting with my great-great grandmother. These women instilled independence in me at a young age.
When I needed to find an affordable home and a job in order to take care of my little kings, Demetry and Devin, I remained positive, humble and proactive.
I applied for HUD housing in an apartment complex and was approved. On move-in day, there was a drive-by shooting, and someone died in the complex. I was devastated, and my sons were terrified. We had no other place to go. We prayed for God to make a way for our family.
Our prayers were answered when we received the first letter from Mon County Habitat. Habitat was our saving grace. It was our hand up not a hand out!
Habitat has given my family more than an opportunity to be homeowners. My sons will be in a stable, safe environment. I feel empowered because my hands have worked on my foundation, walls, windows and siding. I am ecstatic when I build with other women. Experiencing the motivational power of women earning a residence is phenomenal!
Subscribe to our monthly newsletter
Get our latest news, volunteer opportunities, DIY tips and other ways to get involved with Habitat for Humanity.