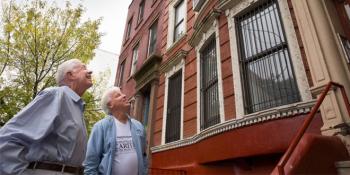 Carters return to site of first namesake project in New York
NEW YORK CITY — Former President Jimmy Carter has a thoroughly nonpartisan solution to the U.S. government shutdown: "I think everybody on both sides needs to spend the day on a Habitat site," he said. "There's no distinction about whether you're Christian or Muslim, a Democrat or a Republican, or whether you're a man or a woman. You're all working for the same goal."
If Congress could see that kind of cooperation for the greater good, Carter said, the impasse would be bridged and the nation would be stronger.
Carter and his wife, Rosalynn, held a news conference Thursday afternoon at a pivotal site in their post-presidential legacy of service. Thirty years after helping Habitat for Humanity rebuild a derelict apartment building on New York City's Lower East Side, the first couple returned to visit some of the families who have thrived there since.
"It's always emotional to see what these homes have meant to the families," Mrs. Carter said.
The 30th annual Jimmy & Rosalynn Carter Work Project is happening this week in Oakland and San Jose, California; Denver, Colorado; Union Beach, New Jersey; and New York City, where it all began in 1984. As soon as the Carters touched down in New York on Thursday, their motorcade zipped directly to the apartment building they helped build three decades ago.
After spending nearly an hour inside the building, having private meetings with some of the 12 original homeowners who still live there, the Carters emerged and crossed the street for a press conference, along with Jonathan Reckford, CEO of Habitat for Humanity International; Neil Hetherington, CEO of Habitat New York City; and two homeowners, Don Yao and Ann Rupel.
"For many people, the Carters are the faces of Habitat for Humanity," Reckford said. "This is the eighth year I've had the privilege of working alongside them, and I'm amazed and humbled by their efforts."
Both Carters spoke nostalgically about the renovation of the six-story, burned-out tenement shell on East Sixth Street called Mascot Flats. Built in 1902, by the 1980s the building was among the last ones standing in a neighborhood plagued by crime and drugs. Now the Lower East Side is a desirable place to live, bustling with people and traffic. The apartment building next door to Mascot Flats sold recently for almost $2 million.
Habitat NYC has built or renovated 1,000 homes and apartments in the city's five boroughs since the Mascot Flats project, Hetherington said. This year's Carter Work Project is not only a celebration of a 30-year milestone, but also an occasion for awareness-raising.
In an interview that ran this week in the New York Times, Hetherington talked about the best way to measure the impact of Habitat's inaugural Carter Work Project at Mascot Flats.

"For me, success is: How well did the children do? Did we break the cycle of poverty?" he said. "Ninety-eight percent of the children (at Mascot Flats) not only graduated from high school but went on to community college, or college or university. Long-term success is what this organization is all about."

In one of the most high-priced housing markets in the world, the residents of Mascot Flats have managed to keep their building an affordable place to live for three decades. For the estimated 4 million New Yorkers in need of affordable housing, their example is a beacon of hope.

At the Carters' news conference on Thursday, Daisy Rodriguez sat quietly in the back row of spectators. Soon, she and her husband will become homeowners themselves, moving with their two children into one of five houses in Queens being rehabilitated during this week's Carter Work Project, along with 10 homes being repaired on Staten Island, which was slammed by Hurricane Sandy in 2012.

Rodriguez works in sales and customer service at JCPenney, and her husband drives a taxi. For 24 years, the family has lived in an apartment building in Brooklyn.

"We are so proud that we will own our home," Rodriguez said before the news conference began. "We needed a change. A lot of people told me I would never own a home in this city. But we are doing it. We feel a lot of pride.

"And our children will see that it really is possible."