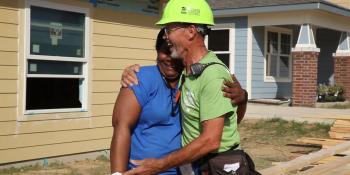 See the invaluable connections made at the Carter Work Project
Carter Work Projects make connections.
Habitat homeowners and volunteers connect as they work long hours alongside each other. Enthusiastic builders connect with new skills and experiences. Communities connect in support of Habitat's work and help bring new life to streets and neighborhoods.
Most of all, future homeowners connect with the enormous potential these Habitat houses represent – healthier children, more secure and stable lives, brighter futures.
Carter Work Projects connect them all.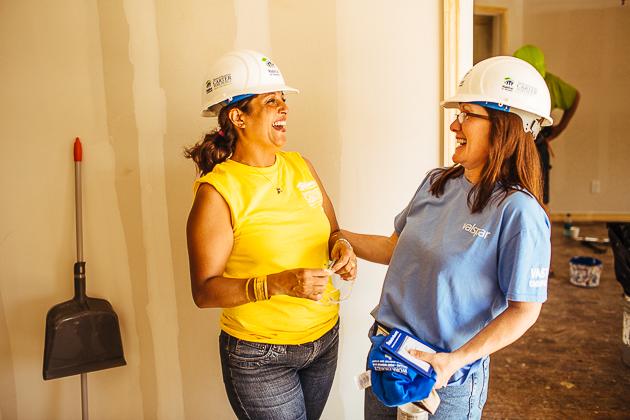 As Yadira Torres reads a text from her son Diego, her eyes well up with tears. "Take care mom. I love you. I'm sorry I can't be with you. Live in your moment. Enjoy it. Thanks for being my mother."
Torres lives with Diego, 20, and daughter Adamaris, 10, in a Fort Worth garage that has been converted into a one-room apartment without central heat or air.
"My children are the best thing in my life. They are the engine of my life, what inspires me to be a better person," she says.
She was hard at work painting paneling for her house when Kim Welch, vice president of Valspar Paint, walked up the driveway and saw Torres's hands and forearms covered in yellow paint.
"I wanted to tell her that was our paint," Welch says. "She started telling me her story and giving me a tour of her house, and it was very emotional."
The two embraced, paint-covered hands and all.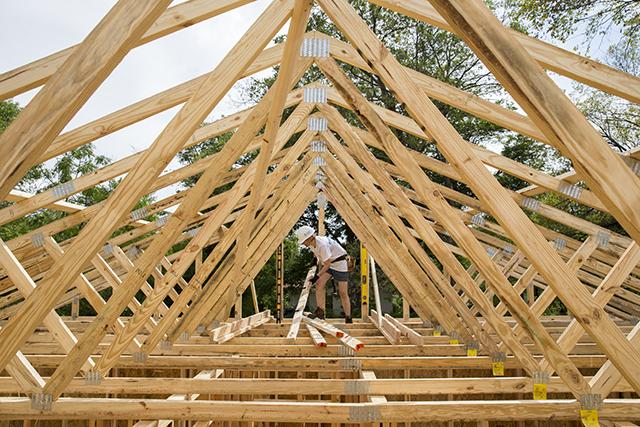 Attorney Holly Eaton of Washington, D.C., has volunteered at nearly 20 Jimmy & Rosalynn Carter Work Projects, and served as a construction house leader for most of those.
"I wasn't sure until the last minute whether I was going to be able to come to this one," she says, taking a break from building on one of 30 homes going up this week in Dallas. "But I'm here, and I'm ready to build."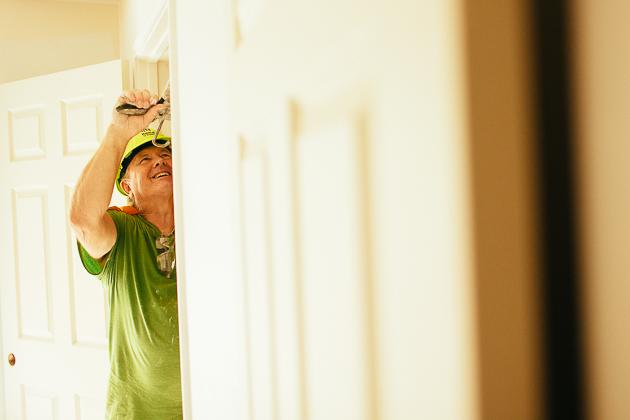 The tornado that tore through Granbury, Texas, in May 2013 blew homes right off their slabs. In Habitat's Rancho Brazos neighborhood, all 60 homes suffered some damage, and more than 20 were just gone. "It was devastating to have all your houses go down and all your families in stress," says Carol Davidson, executive director of Granbury's Hood County Habitat.
The next morning, staffers from Trinity Habitat in Fort Worth showed up to help in Granbury, where Habitat has an all-volunteer staff. "In one of our greatest times of need and challenge, they were there for us," says Davidson.
This week, more than 20 Habitat volunteers from Granbury returned the kindness, working at the Carter Work Project all week, building houses and serving thousands of breakfasts and lunches to the volunteers.
"It's brothers and sisters helping each other," Davidson says.
"It's our turn," says Carol's husband Steve Davidson (pictured), Granbury construction supervisor.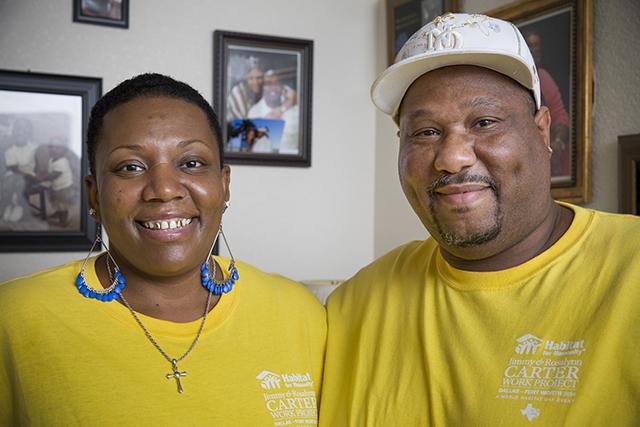 When Hurricane Katrina hit their home in New Orleans in 2005, Will and Benita Lewis lost everything, except their faith. This week, they welcomed former first lady Rosalynn Carter into their new Habitat home in Fort Worth, Texas.
"She wanted to see what a finished house looks like, so we gave her a tour," Benita says.
In April, the Lewises moved in on a nearly deserted street that is now caught up in the whirlwind of construction that is the Carter Work Project.
"Being able to move into this home has created a place not just for us but for our extended families," Benita says. Sixteen-year-old son Kyle lives with them, and three grandchildren, ages 2 through 5, visit frequently and love the backyard.
Katrina and its aftermath was "an empty time," Benita says. "We felt lost. At the same time, when you have faith you know that all things are working together. Prayer brings you through."
They spent time in a shelter, came to Fort Worth to be with family and lived in an apartment for years until finally moving into their Habitat home.
"Habitat," she says, "is like a globe that's nothing but rainbows."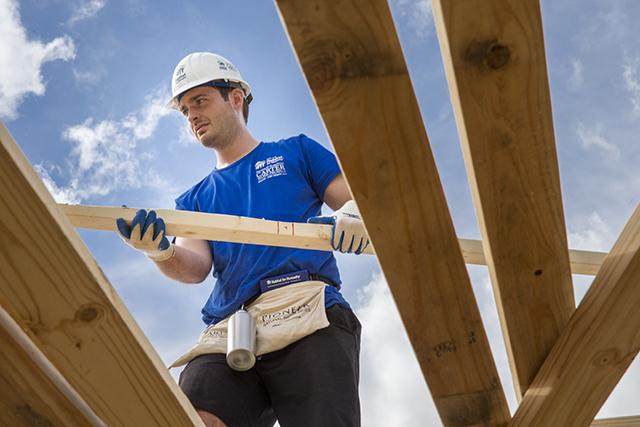 Andrew Grove of Ryan LLC, a global tax services firm and stalwart supporter of Dallas Area Habitat, handles some of the higher work on a house being built in the Oak Cliff Gardens community of Dallas.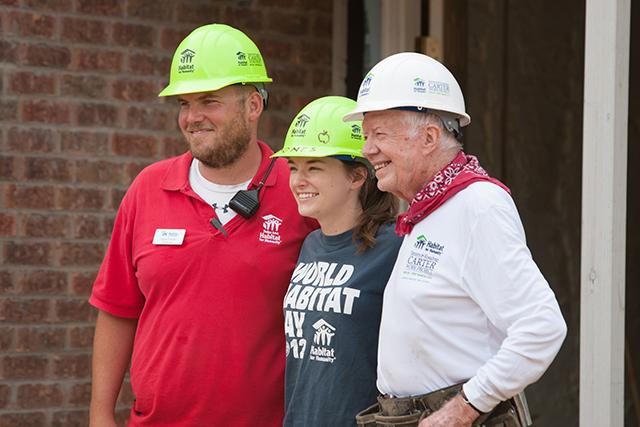 Sara Parrish and Taylor Fowler had planned to be getting married on a North Carolina beach on Saturday, Oct. 11.
Instead, the young couple stayed in Texas so that Fowler could handle his duties as construction director at Dallas Area Habitat, co-host of this year's build with Fort Worth's Trinity Habitat. 
When President Carter heard about the young couple's sacrifice, he gave them a presidential photo opportunity.
"He told me I was going to be a beautiful bride," says Parrish. "And when I asked him to be in the middle for a photo, he insisted that I be in the middle because I'm the bride! This week was such an important and special opportunity for Taylor. And President Carter truly made it even more special for us."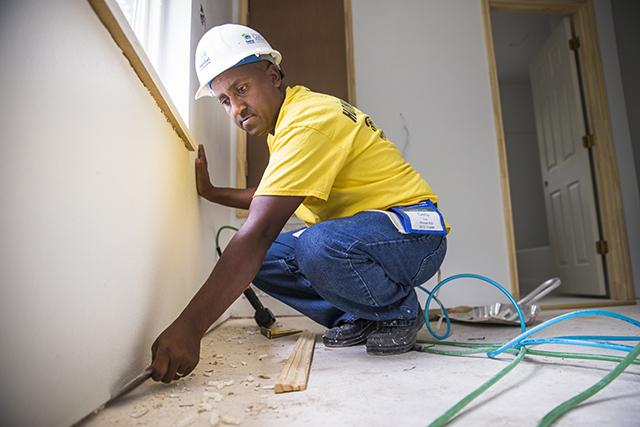 Getu Tufa and his wife, Sentayehu Gebremariam, moved from Ethiopia to Dallas eight years ago.
At this year's Carter Work Project, Tufu joined a dozen volunteers to help build his family's new home in the Oak Cliff Gardens community. The couple has been living in an RV while working toward owning their own home.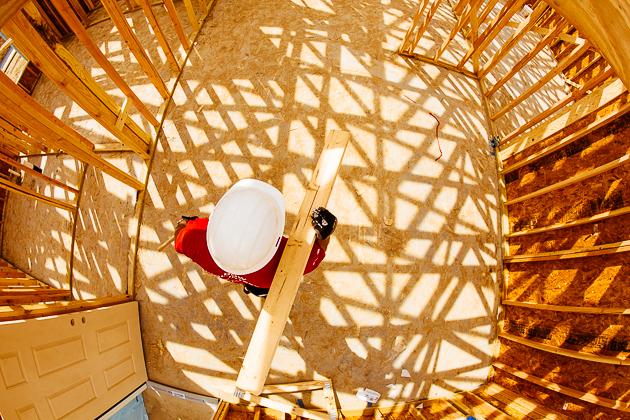 Scott Young's ninth Carter Work Project finds him building the Fort Worth home of Jorge Padilla, a single father of three young children.
Young, the commercial director of the Dow Building Solutions Group in Midland, Michigan, is one of about 100 Dow volunteers building on this year's project.
"It's part of Dow's DNA," he says. "We started partnering with Habitat 31 years ago, and it's rewarding to see our weatherization products being used. It's also immensely satisfying at the end of the day to see you've made a difference."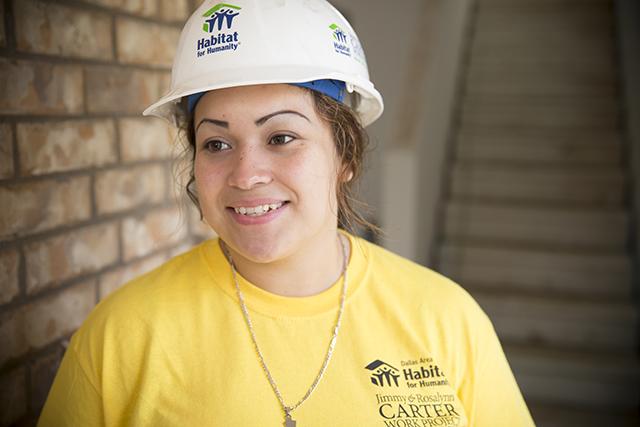 Nayeli Escamilla and her three sons — 9-year-old Felipe, 7-year-old Joel and 1-year-old Julian — are among the 30 families who will be moving into new homes in Dallas.
Escamilla says her boys are most excited about having a big yard with lots of trees. "I think the first thing we're going to do is plant a big tree that will grow up and give lots of shade," Escamilla says. "This is a new beginning for my family, and my boys still can't believe it's coming true."