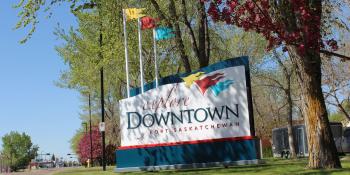 City of Fort Saskatchewan partners to create affordable housing
The city of Fort Saskatchewan in Alberta, Canada, is ready for the 2017 Jimmy & Rosalynn Carter Work Project.
During the week, volunteers will team up with future homeowners to build 16 affordable homes in the city, adding to the 12 Habitat Edmonton homes there already. In addition to sponsoring this year's Carter Work Project, Fort Saskatchewan, a city with a population of 25,500 along the North Saskatchewan River, has also laid plans to build with Habitat every year.
Mayor Gale Katchur will be among the Fort Saskatchewan residents building during the 2017 Carter Work Project. While she says she is looking forward to meeting her fellow volunteers, she will most enjoy helping Fort Saskatchewan families move into their homes — and helping her city offer more affordable housing.
Q: What is the housing situation in Fort Saskatchewan?
A: Fort Saskatchewan is a midsize city, and over the years we've been challenged with having affordable housing solutions for our residents. It is very difficult to attract people to come and work in some of the service industries and some of the lower-paying jobs, so what we said was, "We have to do something different." We are the petrochemical hub for Canada, so there are very good-paying jobs here, and it was resulting in rentals being very expensive for people. For us to put our affordable housing money into Habitat, we're helping. I would like to be able to help more people.
Q: What is your vision of success when it comes to affordable housing?
A: My vision of success would be to have more people in homeownership, into affordable housing. We are challenged with this, and so really, my vision of success is having 28 Habitat homes in Fort Saskatchewan and the commitment that every year we will have another build.
Q: Tell us about the neighborhood where the Carter Work Project will build.
A: Habitat families will be nestled in amongst a new neighborhood with growth occurring around them. There will be young families with children, and a brand new kindergarten-to-grade-nine school that is currently under construction.
Q: What do you see as the benefits of stable housing for children?
A: I'm so passionate about Habitat for Humanity because parents know their kids have a home to go to and children improve in their schoolwork. Families feel part of the community; they're not struggling to figure out where their ends are going to meet.
Q: What do you hope is evident in Fort Saskatchewan during the build week?
A: That we are a compassionate community that cares about its citizens, and we're really making a difference in the lives of others.
Subscribe to our monthly newsletter
Get our latest news, volunteer opportunities, DIY tips and other ways to get involved with Habitat for Humanity.