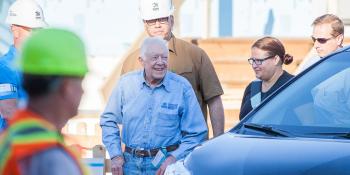 Showing appreciation for the Carter Work Project
Appreciation.
That's the word being used over and over again on the final day of the Jimmy & Rosalynn Carter Work Project in Canada.  
Appreciation for Habitat's most dedicated volunteers, President and Mrs. Carter, who returned Friday morning to the build site in Winnipeg to help start the day, once again joining future Habitat homeowners and other volunteers.
Appreciation for the transformation that took place in just five days time.
What began Monday as slabs of concrete and piles of lumber quickly morphed into Habitat homes for Charles and Christine, Alanna, Najlaa and Abdelhak, Todd, and so many others in Winnipeg and communities across Canada. From Winnipeg to Fort Saskatchewan, the provinces to the territories, 150 families are getting the chance to become homeowners through this year's Carter Work Project.
Appreciation for the thousands of volunteers from Canada and the United States who spent their time off building, and building, and building. As nails and hurricane hangers secured walls and roofs, bonds of the human kind cemented. "When my home is finally finished, I am going to invite everyone over for a barbecue," says Mengs, who with his wife is building a house for their two daughters alongside dozens of Winnipeg firefighters.
And finally, appreciation for the families who will be living in all of these homes. Volunteers new to the Habitat scene might have come thinking that they were going to enrich the lives of others only to find that their lives, too, are enriched. "OMG, I am the one who benefits from this," says Shawn Kidd of Winnipeg who has lost track of how many years he has been volunteering with Habitat.
"This is really hard work but when I get home, I am more centered, I have more energy and I am happier," says Mica Deangelis of Burlington, Vermont, who has been volunteering with Habitat 15 years and has built on previous Carter Work Projects in Chiang Mai, Thailand, Los Angeles, California, and Anniston, Alabama.
In Winnipeg, the newly emerging neighborhood on Lyle Street continues to buzz with the sounds of hammers, saws and rallying cries. Not too long from now, this will be a community filled with children playing on the soccer pitch at the end of the street or on the playground at the school around the corner.
"I want this to be a place of stability, where things happen for my family," says Amber, the mother of three daughters. "This is where they will grow up and where they can come back if they should ever stumble and fall." As for Amber, she is looking forward to sitting on her front porch and looking out the window over the kitchen sink that she has long dreamed about.
The final day of the Carter Work Project is always filled with a tinge of sadness. This year is no different. "I probably will feel a little lonely when everyone is gone," says Chucky. He and his wife, Christine, are among the 10 Indigenous families building homes this week through Habitat Manitoba.
After the work wraps up, the memories will remain. In Edmonton, Raihan soon will look around his completed home and remember the volunteers who wrote messages of hope, encouragement and faith on the studs before the walls went up. "Even though I can't see the signatures, I will keep looking at those walls and remember those people.
Subscribe to our monthly newsletter
Get our latest news, volunteer opportunities, DIY tips and other ways to get involved with Habitat for Humanity.