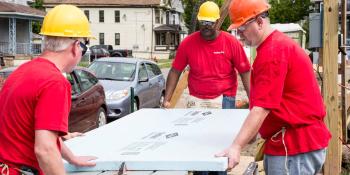 KeyBank employees are giving back at Carter Work Project
Year after year, the Jimmy & Rosalynn Carter Work Project takes place thanks to the generous financial and volunteer support from sponsors dedicated to building up the communities that they call home. For employees of KeyBank, supporting the 2018 event is all in a day's work.
"I believe there's an implied contract between a business and their community that they must work together for the common good," says Michael Lugli, KeyBank's market president for northern Indiana. "It's a contract that I know KeyBank takes very seriously."
He knows because he's been both witness to and an active participant in that commitment during his more than 25 years at the bank. In Indiana, Lugli and his team have renovated homes with Habitat for Humanity in addition to other service projects.
The projects, put forward by the community and then acted on by KeyBank employees, are part of the bank's annual Neighbors Make the Difference Day to improve the quality of life in its market areas. This year alone, more than 7,000 KeyBank employees across the U.S. have contributed to 860 community service projects.
In 2017, KeyBank unveiled a five-year National Community Benefits Plan that will invest in the neighborhoods where they have a presence. The plan has designated $500,000 to support the Carter Work Project.
"KeyBank has done a ton of wonderful things for me personally," Lugli says, "but to work for an employer who believes so much in a community that they are willing to put half a million dollars into a single project? It's tremendous, and it's going to be transformational for so many."
During the Carter Work Project, nearly 100 KeyBank employees will also be in hard hats and work boots, helping future homeowners to build their own homes. Employees are eager to get physically involved, Lugli says, because giving of themselves and of their time creates a deeper connection to their community.
"As a volunteer, you are able to see an immediate impact," he says. "At the end of the build, these families are going to be able to walk into their houses for the first time — a bedrock from which they and their kids can learn and grow — and you're a part of that."