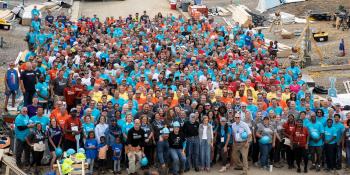 Carter Work Project 2019: The circle remains unbroken 
Year after year, now numbering 36, the Jimmy & Rosalynn Carter Work Project has forged connections between families seeking decent homes and volunteers seeking a way to share their hearts.
The 2019 project in Nashville began with a rousing sing-a-long of the hymn, "Will the Circle Be Unbroken." It ended with 21 families encircled by a former president and first lady and the hundreds of volunteers who had come from all over and all walks of life to help them build their houses and support their dreams.
"Without a home, you don't have a place to put your dreams," says Holly Eaton, a volunteer on 22 Carter builds around the world who hopes to keep her place in the circle on next year's Carter Work Project. "We are building dreamcatchers."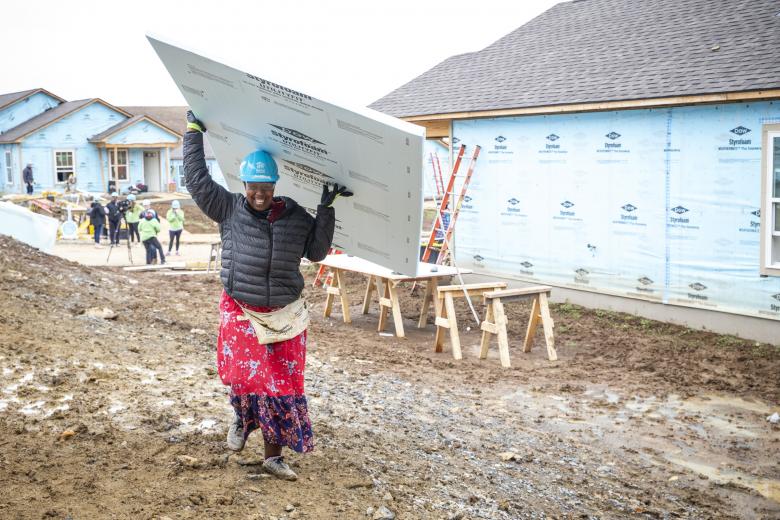 A long way to home  
Noella's life journey has taken her around the world, and yet, as that life would have it, here she is — in Nashville building her own home. For her, Habitat offers an opportunity for something that she has never had: a permanent address. "The thing I love most about my house is that I am going to have somewhere to stay," she says. "My children will have a place to call home." 
As a child, Noella went with her family to live in a refugee camp in Uganda while her country, the Democratic Republic of the Congo, was at war. Sixteen years later, with her husband, Mbereye, and a family of her own, she was resettled to Nashville. "It is a very beautiful city," she says. 
Even so, it has not been the easiest place to find a decent place to live. Noella and her family have moved from one too-small, too-expensive apartment to another. But Habitat has given them hope, they say, and they named their youngest child Hope. "It has been a very long journey," Mbereye says. "When we see the progress on our house, we can't help but be happy."
After spending a week building her house with the permanent address alongside volunteers from around her new country, Noella is at a loss to describe her feelings. "I don't have the words," she says. She is quick to find the words to describe how she feels about the people who have helped her, though, the people she now calls friends. "I love them so much. So much."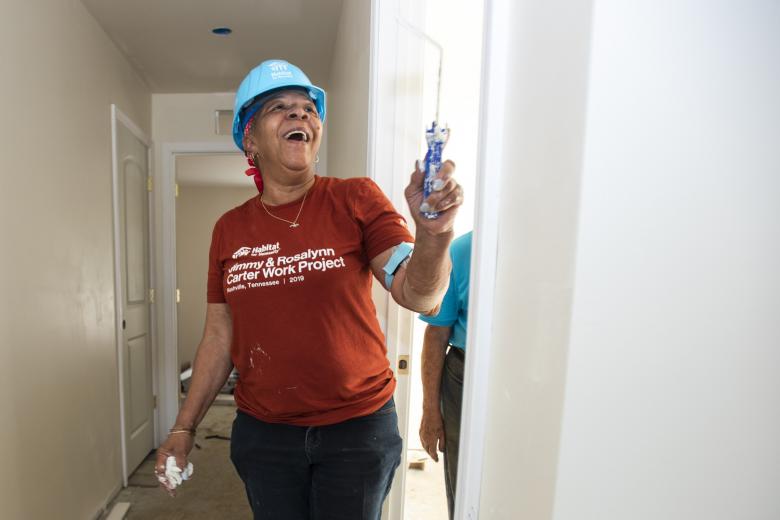 A legacy of giving 
Brian Schoen attended his first Carter Work Project in 2018 with a mission. He traveled the 150 miles from his home in Indianapolis to the build site in Mishawaka, Indiana, to honor his late father, Ronald Schoen, a consistent and deeply dedicated volunteer of Habitat Greater Indy. Inspired by the community that unfurled during the five-day event, Brian traveled twice as far to attend this year's project — this time with his son, Josh, who came all the way from Olympia, Washington. 
Together, father and son are continuing the cycle of giving and of Habitat service that Ronald began all those years ago. Thanks to his grandfather, "a part of me always feels a little more whole when I'm on a Habitat build site," says Josh. "In every cut I make, in every nail I put into this house, I feel like he's part of this build. It feels good to be carrying on his legacy." 
Brenda understands the importance of a tightknit family circle and those bonds that refuse to break. With the constant encouragement of her daughter, Tifphany, Brenda applied — and was later accepted — to the Habitat homeownership program. "It's not my first time owning a home, " she says, "but it's my dream home — because it's one I never thought I'd have again." 
"I am so excited for her," Tifphany says. "I'm extremely proud of her." There's a lot to be proud of. Brenda's been free from drugs for six years, having found help and now employment through a two-year program for survivors of addiction. At 65, she has been designated the "Neighborhood Granny," a title she wears proudly. She's also very proud of the families she will call neighbors. "They are setting such good example for their children," Brenda says. 
During the Carter Work Project, Tifphany rolled up her sleeves, moving from room to room alongside her mom, painting the interior of her new home. It's exactly this type of support, the tangible acts of redeeming love from her family and her God that Brenda credits to progress. "I have the greatest support system in the world," she says. "We done been some places and seen some things, but my son and my daughter are always encouraging me to excel, always helping me find my way back to life."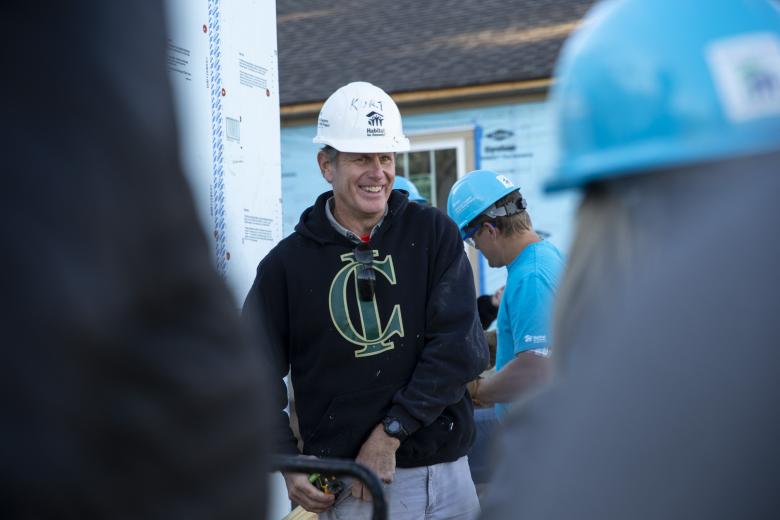 Building with heart 

 
Every morning, at each of the 21 build sites soon to become a family's house, future homeowners and volunteers circled up to get their daily marching orders — raise walls, put up siding, hang windows, put up more siding. At Julica's home, house leader Kurt Denny added a task to the to-do list. "Build with your heart. What you do in this house will stay here." 
For 25 years, Denny has been building with his heart. The Nashville real estate investor has left part of himself in Habitat homes in the Gulf Coast following Hurricane Katrina and in Sri Lanka following a tsunami. Mostly he builds close to home, volunteering with Habitat Greater Nashville to do his part to make his community better. "It is nobody's fault if our community isn't great but our own," he says.
The Carter Work Project draws plenty of regulars like Denny. It also attracts many first-timers curious to know what all the fuss is about. "I hope they are inspired by what we do and come back to volunteer with Habitat," Denny says. "If for some reason, they don't like the sawdust or the hammering, but they experience the feeling of building with their heart, they will go find some other way to give back to the community. Love is a powerful, powerful, powerful thing."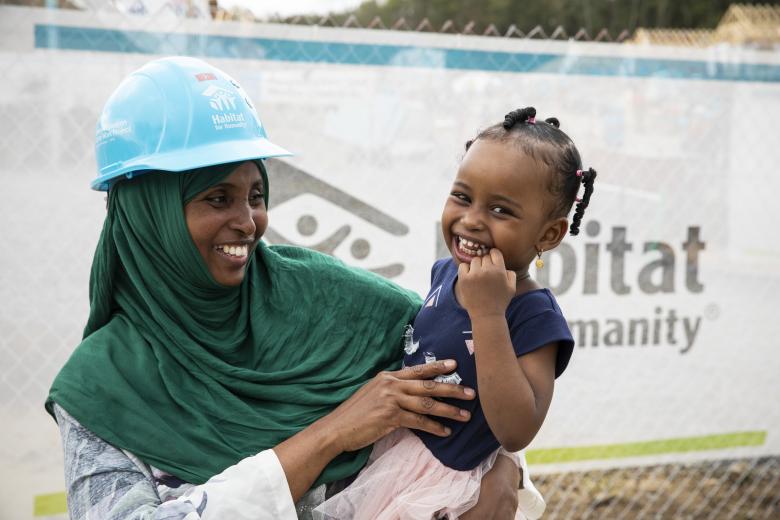 A new beginning
"I want to challenge us to see this week not as an end in itself, but as a beginning," Habitat CEO Jonathan Reckford put to those gathered at the opening ceremony of the 2019 Carter Work Project. On Friday, as the week of building wrapped up and the tears of happiness flowed, that mantle had been taken up by future homeowners and volunteers alike. 
Both first-time and long-time volunteers made promises to themselves and their crews to return to next year's Carter Work Project and to support their hometown Habitats in between. Future homeowners Neil and Erica, astounded at this commitment and outpouring of love, can't wait to begin paying the kindness forward themselves — a long-held calling that homeownership finally allows them to act upon.
"We're both frustrated because we want to give and we can't because financially we're tight," says Neil. The new-found financial security of a fixed affordable mortgage "will give us space in our budget to be generous to other people." 
The flurry of activity and generosity this week gave him a "taste for building" that he knows will only be satisfied by helping other Nashville families secure their own homes. Both the work and the end result — a safe place for a family to grow and thrive from — leave Neil in awe. "It's life-giving."
As Neil and Erica and the rest of families move in later this year and early next, that impact — and the new beginning it ushers in — will extend to the next generation through the nearly 50 children who will call these new houses "home." 
For Brittaney, her home is a launching pad for her 4-year-old daughter, Kylie, to finally have the space she needs to explore her passions and curiosities.
For Khaled and Hassiba, it's a fresh start after escaping the unrest in their war-torn Afghanistan village — a chance at a different kind of life for their 5-year-old son, Aishani.
For Ebony, it's a safe and clean slate for her children and an example of what's possible when you work hard for your dreams. 
For each of the 21 families who built alongside a former president and first lady and hundreds of volunteers, the ripple effect of a safe, decent home goes far beyond their own lives — holding the ability to lift up their children, their children's children yet to come. The circle of love, of betterment and of giving ever-growing, ever-strengthening. Unbroken.