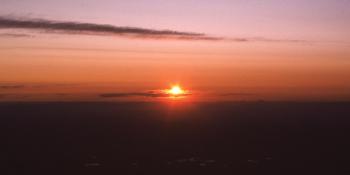 Lent devotions
Preparing for Easter
Lenten Devotions 2021
Lent is a season of 40 days, not counting Sundays, which begins on Ash Wednesday, Feb. 17, and ends the Saturday before Easter.
It is a time of preparation, of self-examination and of reflection as we journey toward the cross.
The devotions in this collection, designed so that you can use one for each week of Lent, focus on ways we can honor Jesus by caring for others.
On this page:
Week 2: A story of a self-perpetuating gift and life
Week 7: God will take care of me
Week 1
I make all things new
By Mónica Ramírez
I heard a loud voice shout from the throne:

God's home is now with his people. He will live with them, and they will be his own. Yes, God will make his home among his people.

Revelation 21:3, Contemporary English Version

He who was seated on the throne said, "I am making everything new."

Revelation 21:5, New International Version
A poignant scene from the movie The Passion of the Christ, directed by Mel Gibson, moves me deeply. Jesus meets his mother on the way to Golgotha and says to her, " Mother, I make all things new." This is not a biblical quote, but we can picture Mary at a seemingly hopeless moment. We can imagine the looks mother and son exchanged — full of faith in the Father — despite how impossible and incomprehensible His promise seemed to their human eyes.
Many of us have lived through long periods of trial and tribulation. Sometimes, in moments of despair, we have lost hope because of illness, isolation, natural disasters, wandering migrants, more people living in the streets, racism and division, to name a few. In recent months, two of my uncles passed away to the Father, and I have not been able to see my mother in more than a year. At times, it seems that there is no light at the end of the tunnel.
But God made his home among us. He incarnated, suffered like us and taught us that the pain is not the end. He makes all things new! We can also make things new for His children, the needy and the weakest. We all can certainly do something; it takes only a generous heart willing to listen to the inspirations of the Holy Spirit that call us to love with action.
This I have learned from my daughter. She and a handful of friends organized an initiative called Words of Healing that invites people through social media to send letters of encouragement and solidarity to patients here in San Jose who are isolated in hospitals because of COVID-19. They organize and safely deliver letters and recordings made with love. It has been a blessing for the patients and has created a sense of solidarity among many people who write the letters.
Soon we will relive the Passion of Jesus, but we know the Resurrection is coming. In our lives and our mission, we can also work on a "resurrection" to make things new for our neighbors. Let us begin by focusing on compassion, seeking to feel the need and the pain of others, and then let us use all of our strengths to make new the lives of many families lacking adequate housing.
For so many immigrants who feel rejected or unwelcome, let's open a home for them; for so many affected by disasters who have lost their homes or livelihoods, let's offer new hope. And for so many who continue to suffer discrimination and neglect, for the disenfranchised, let's be the hands and feet of Jesus. Let us build new hope; let us build the new Jerusalem.
Prayer
Heavenly loving Father, we thank You for life, for health, for Your creation, for my family, my work and my country. I pray that every day You give us Your blessings. With our eyes focused on You, O Lord, let us live as people of hope. For You are the light, You are the life, and You are the Resurrection! Lord, give us a generous and compassionate heart, ready to feel the pain of my brothers and sisters, willing to comprehend, eager to love and, most of all, moved to act. I ask You for the gifts of the Holy Spirit that You guide me, enlighten me and strengthen me to fulfill Your loving will. Let me be Your hands and an instrument to take Your kingdom to Your people, especially to those most in need — the weakest, those hit the hardest, and those who are forgotten. I ask You, Lord, that this Habitat ministry will truly be a ministry of hope, to help many more people around the world rebuild their lives, starting with an adequate home. All this we ask in the name of our Lord Jesus Christ. Amen.
Questions
If I seek to have peace and have faith and hope be real in my life, what things that happened in the past year should I let go of, leave behind and offer to the Lord? What stands in the way of a fresh outlook?
Am I aware of and sensitive to the pain and suffering of others? Have I opened my heart to listen, understand and give love to those in pain or grief?
How can I be more aware of opportunities to take action and be the hands of Jesus to build homes, communities and hope? What else can I do to make things new for others?
Mónica Ramírez is the director of strategic alliances working out of the Latin America and the Caribbean area office of Habitat for Humanity International in San Jose, Costa Rica.
Week 2
A story of a self-perpetuating gift and life
By Ronald Kiconco Ongopa
"Who has ever given to God, that God should repay them?"

— Romans 11:35, New International Version
Millard and Linda Fuller, co-founders of Habitat for Humanity, decided they had to turn their lives around if their marriage was to survive. They committed to leave a life of affluence and success in business in Montgomery, Alabama, to find a new life in Christian service.
During that pursuit, the Fullers met Clarence Jordan, who, along with three others, had created Koinonia Farm in the 1940s as a demonstration plot for the kingdom of God. Millard described Clarence as full of grace, kindness and the love of Jesus. The couple's experiences at Koinonia would result in the creation of Habitat, which today attracts multitudes of individuals and groups that offer hope and create opportunities through housing as they work alongside millions of individuals around the world.
What a transformation and impact! Most importantly, what an amazing story of God's redemption. Of that redemptive work, Paul asks in Romans 11:35: "Who has ever given to God, that God should repay him?"
I would also add the words of Pastor A.W. Tozer, who said in his book The Pursuit of God, "The man who has God for his treasure has all things in One. Many ordinary treasures may be denied him, or if he is allowed to have them, the enjoyment of them will be so tempered that they will never be necessary to his happiness."
Lent is a reminder of both the redemptive work of God and the rhetoric of Paul's question. The stories of Clarence Jordan, Millard Fuller and Habitat for Humanity mirror scores of similar accounts of transformation draped in the story of Lent. For the story of Jesus is of a life that keeps giving, flows easily and continues to salvage many who encounter it.
The Lenten season reminds us of God's ultimate gift and of a God whose love we cannot outgive or repay. At Habitat, we seek to demonstrate that love through the work we do — sharing with and bringing along with us all nations, tribes and tongues to build homes, communities and hope!
Lent, therefore, is about a God who offers us a self-perpetuating gift and life. Webster's New World College Dictionary defines a gift as something "given to show friendship, affection, support," and life as an "essential to the continued existence of something else." What an apt description of our loving God.

Prayer
Lord, our hearts glow with gratitude for who You are and for Your work in our lives and the Habitat ministry. In all these, "Not to us, LORD, not to us but to your name be the glory, because of your love and faithfulness." (Psalm 115:1)
Questions
What gifts and whose life are you reminded of during this Lenten season?
How have you (or can you) share some of those gifts and that life?
Has someone been a "Clarence Jordan" in your life? If so, how have you recognized them for their role?
If no one has served that role in your life, do you know someone who could? What will you do to learn from that person?
Is God calling you to reach out to someone to serve as a spiritual mentor?
Ronald Kiconco Ongopa is a senior development officer at Habitat for Humanity International and is based in Atlanta, Georgia.
Week 3
The crushing
By Vicky Marambii
But we boast also in afflictions, for we know that affliction perfects patience in us, and patience, experience, and experience, hope.

— Romans 5:3-4, Aramaic Bible in Plain English
Olive trees and their delicious fruit provide food, medicine, perfume, heat and light. Thlipsis, the Greek word for affliction, is the same word used to describe the process of crushing an olive when extracting oil. For many of us, the past year has been a physical, emotional and spiritual grinding wheel of disease, sociopolitical unrest, natural disasters and more. Those challenges have robbed us of our peace, loved ones, livelihoods and homes. So what is there to boast about?
The passage from Romans says affliction perfects patience in us. When we are going through a trial, there comes a time when we realize there is nothing we can do to get ourselves out of it. Why is this good? Because at last, we give up all our efforts and come to a place of total surrender and faith in God alone.
As the crushing began at Gethsemane (which means the place of the olive press), Jesus cried out, "Please take this cup of suffering away from me. Yet I want your will to be done, not mine." The Lamb of God knew there was nothing He could do to keep Himself from dying on the cross, so He surrendered to the Father's plan.
Patience perfects experience in us. It is a relief to learn that when we finally give up all our efforts and surrender to God, that is the moment the Savior steps into our situations.
Experience perfects hope. The next time trials come our way, we can look back to previous experiences for strength, having faith that God will come through for us as He did before. After He was poured out, Christ, the anointed one, became our living hope the morning of His resurrection.
Trust in God as described in Isaiah 41 is the "vaccine" that preserves us and is a refuge during life's crushing seasons. And when a family realizes their hope of a safe home, I am reminded of God saying, "Behold, I am about to do something new; even now it is coming. Do you not see it? Indeed, I will make a way in the wilderness and streams in the desert."
In the past year, it has become clear that decent shelter is a vaccine for vulnerable families to build immunity and resilience during a crisis. Housing is the prescription we need for improving outcomes in health, education, safety and economic stability. May God continue to strengthen us to work toward our vision of a world where everyone has a decent place to live.
Prayer
Lord, thank You that although we may be pressed on every side by troubles, we are not crushed. We may be perplexed, but we are not driven to despair. We may be hunted down, but You will never abandon us. We may get knocked down, but we are not destroyed. Help us remember that just like clay in the hands of the potter, You are molding us as seems best to You. Amen.
Questions
Can you recall a time in your life when you felt God's power carrying you through a difficult situation?
What steps can you take to be able to look at hardships and weaknesses as opportunities to rely on God's power?
How can you use hardships and trials you have experienced to be an encouragement to someone in your life?
Vicky Marambii is Habitat for Humanity International's associate director of Global Volunteer Engagement and Support and is based in Atlanta, Georgia.
Week 4
Great expectations
By Kerry Hilton
Do not conform to the pattern of this world, but be transformed by the renewing of your mind. Then you will be able to test and approve what God's will is — his good, pleasing and perfect will.
— Romans 12:2, New International Version
I have been told I have a vivid imagination. This can be entertaining, but the downside is that my imagination will paint my expectations with a fine trim brush, while using the wrong paint. Those of you who have been on a Habitat for Humanity Global Village trip or have visited a culture other than your own may have discovered misaligned expectations along the way too.
Thirty years ago, I volunteered in Africa as an agricultural extension agent. I lived in a 225-square-foot, mud brick house with a steel roof, a concrete floor and no electricity or running water. The local fish farmers had built the house for me and dug a new private pit latrine. The accommodations were better than I had anticipated and more than I wanted. I had expected a round thatch house with a dirt floor surrounded by palm trees. While I taught best practices in aquaculture and nutrition, my neighbors spent two years demonstrating to me what generosity really looks like. In due course, God renewed my mind so I could see that framing my mission in Africa according to my preferences was not supremely important.
I went to Africa with a desire to live at the same standard as those I set out to serve. The lifestyle I envisioned was similar to how so many live on this planet — in substandard houses, as subsistence farmers with little access to formal health care services. Turns out, having the choice and means to leave meant that I could not have an authentic experience of village life below the poverty level. Signing up for two years of service meant I always had an end date, an exit strategy. Unlike my neighbors, I could leave for better amenities elsewhere. Paradoxically, I wound up experiencing life with more privilege, not less. Again, my intentions and outcomes were not plumb.
When the folly of my vivid imagination has had a good run, eventually I remember that my purpose on this planet is not to conform to the visions in my head, but to seek God's good, pleasing and perfect will.
The Lenten season is a good time to ask whether our intentions, expectations and visions are aligned with the Master Builder. If you discover you are using the wrong paint or that the frame of your view is not square with the cornerstone, God will renew your mind and set you a new firm foundation.
Prayer
O God Who loved us first and Who loves us all, thank You for renewing our minds when our visions and plans are not aligned with Your will. Forgive our calculated efforts and clever programs and remind us that the neighbors You call us to love are people whose lives are bestowed with blessings and beauty, full of the fruit of Your spirit, before we ever arrive on the scene. Fill our hearts with Your love and our minds with Your spirit that we might serve our neighbors well by first insisting on dignity and respect for all.
Questions
Have you ever had expectations that were not met? What did you learn about yourself and your perspective when this happened?
What does it mean to "conform to the pattern of this world"?
What do you know about God's good, pleasing and perfect will? How might you learn more about God's will?
How could a focus on God's will improve relationships in your family, at work and with your neighbors?
Kerry Hilton is a senior specialist on Habitat for Humanity International's Knowledge Management team, working out of Bridgewater, South Dakota.
In describing her experiences, Kerry was inspired by the images in Isabel Wilkerson's book Caste: The Origins of Our Discontents. She urges reading the book to explore the metaphor of the United States as an inherited old house built on a faulty foundation and in need of renovation by its current owners.
Week 5
Your kingdom come
By David Heddy
"Build houses and settle down; plant gardens and eat what they produce. Marry and have sons and daughters; find wives for your sons and give your daughters in marriage, so that they too may have sons and daughters. Increase in number there; do not decrease. Also, seek the peace and prosperity of the city to which I have carried you into exile. Pray to the LORD for it, because if it prospers, you too will prosper."
— Jeremiah 29:5-7, New International Version
The people of Israel found themselves in an extremely challenging situation. Jeremiah states that God had carried them into exile from Jerusalem to Babylon, and that they should seek the peace and prosperity of this new place that definitely wasn't home. I have never lived in exile, but I've witnessed it while living in southern Sudan and observed how devastating and disorienting it is to individuals, families and cultures. I can only imagine how hard it was for the people of Israel to hear these words from the prophet.
Growing up, I remember hearing quite a bit about heaven in sermons and laced throughout many songs we would sing at church. It was described as a perfect place where all creation was at peace and where all things would be made new. It is where we would go to experience God's shalom and where we would be delivered from this imperfect place in which we currently live. This is a comforting thought, certainly for people experiencing deep pain and suffering, but it also misses something important. As God's people, we can begin living into shalom, peace with God, with others and with all of creation, right now!
I think this is part of what Jeremiah was encouraging the people of Israel to seek out in their new city. It is easy to think that in this place of exile, it would have been time to hole up and just pray to make it through until everyone could return home. However, Jeremiah encouraged the people to do something different. He called them to actively seek peace and prosperity in Babylon. The work started by building houses and planting gardens, which is a tangible way to put down roots. A stable home helps to create an environment where you can build strong relationships and families.
When Jesus taught his followers how they should pray, he modeled this call to build God's kingdom right where they were. Rather than viewing shalom as something far off that can only one day be experienced, what if we began to live into it today right where we are? During this Lenten season, what if we asked ourselves and discussed as communities what we could do to realize God's peace and love in the neighborhoods and cities where we live?
We might not walk on streets of gold, but we see glimpses of the kingdom of heaven in our communities through public food pantries on street corners where hungry neighbors can get fed or tiny home villages where people without homes can find shelter. We believe that God will one day make all things new, and in the meantime, we can join alongside and work toward this beautiful vision right where we are.
Prayer
Creator and sustainer of life, during this season of Lent, fill our hearts with hope that You are making all things new. When we are tired, give us new energy. Where we are apathetic, give us fresh vision and enthusiasm. When we feel alone, be close and bring people alongside us for encouragement. When we need rest, quiet our souls. As we journey with Christ through this season of trial, steady our feet, strengthen our resolve, and provide us with what we need for nourishment. Amen.
Questions
Where have you seen glimpses of God's shalom in your neighborhood or city?
What specifically can you pray for to realize the peace and prosperity of the neighborhood or city in which you live?
How might we incorporate the call of Jeremiah to seek peace and prosperity into the work we are doing here at Habitat?
David Heddy is the manager of neighborhood revitalization at Habitat for Humanity International, working out of Portland, Oregon.
Week 6
We are humbled
By Tommy Cooper
Humble yourselves, therefore, under God's mighty hand, that he may lift you up in due time.

— 1 Peter 5:6, New International Version
As we reflect on what the past year has offered us spiritually, emotionally and physically, we are humbled. Habitat families, communities, businesses and our organization endured struggles that brought us closer together. With peace in our hearts, we celebrate life and the abundance of love that our communities share. Each day we humble ourselves to say we can make it through this with God's grace and glory.
And daily, I pray for those suffering from COVID-19-related illnesses and health disparities that exacerbate an already broken system. Each coronavirus case has a face, a family and a spirit that cannot be described by just a number. My heart breaks to hear the coronavirus death toll as I consider that each person was someone's beloved family member or friend. We will never forget their names or faces as we look for God's guidance to overcome this indescribable suffering.
In our pain, we also rejoice for those who have recovered from this devastating illness. I am a survivor of COVID-19, so I take each day with a new outlook and a grateful sense of existence. I close my eyes and reflect on Luke 12:25: "Who of you by worrying can add a single hour to your life?" There is no need to worry; rather we trust God's guidance for He is always in control.

Although this Lenten season may be different from the past, the messages of family, the glory of God and love for others will reverberate deeply. We trust that God will indeed lift us up, and we must live purposefully and guide others to the true meaning of Christ's love. Everyone has a light to shine; use your given light to make others around you feel joy and peace.
Prayer
Gracious and loving God, we thank You for being the Alpha and Omega and the Great I AM. Lord, we thank You for the opportunity to come to You in prayer, and we are grateful that You guide us during these challenging times. We ask You to be the protector of those suffering from financial and housing instabilities, health challenges and food insecurities. Let us be Your hands and feet in the community as we represent You.
In Jesus' name, Amen.
Questions
How do you refocus when you are tempted to worry?
How are you reflecting your love of Christ to your family, friends and co-workers?
How are you overcoming any changes faced during the pandemic? What specific practices bring you joy?
What events have ignited your need to be of service and help others in their time of need?
Tommy Cooper is a lending resources officer at Habitat for Humanity International. He is based in Atlanta, Georgia.
Week 7
God will take care of me
By Mary Welch
"Therefore I tell you, do not worry about your life, what you will eat or what you will drink, or about your body, what you will wear. Is not life more than food, and the body more than clothing? Look at the birds of the air; they neither sow nor reap nor gather into barns, and yet your heavenly Father feeds them. Are you not of more value than they? And can any of you by worrying add a single hour to your span of life?

And why do you worry about clothing? Consider the lilies of the field, how they grow; they neither toil nor spin, yet I tell you, even Solomon in all his glory was not clothed like one of these. But if God so clothes the grass of the field, which is alive today and tomorrow is thrown into the oven, will he not much more clothe you – you of little faith? …

Strive first for the kingdom of God and his righteousness, and all these things will be given to you as well."
— Matthew 6:25-30, 33, New Revised Standard Version
For me, finding God in the ordinary is being aware of God's presence in my everyday life. Since God's call comes to us each day, a major challenge of Christian living demands a daily response to that call. The more I can consciously become aware of God's presence in my everyday life, the easier it is to respond to God's call.
Extraordinary events in which we clearly experience God — like births, marriages, times in nature or listening to a special piece of music — don't happen every day or they wouldn't be extraordinary. These events encourage us to look for God's presence everywhere so that we can learn to love God more extraordinarily each day, even in experiences that we think of as ordinary.
My first Habitat for Humanity Global Village trip was one of those times for me. I hadn't left the country before, other than going to Canada on a family vacation as a child. I was nervous, as I didn't speak the language or even know (until I looked it up) where Guatemala was! I was faithfully following the instructions given to me: get anti-malaria pills, spray my clothes with DEET, hang them out on the line to dry, then pack them quickly so the DEET stays in the fibers. These instructions increased my anxiety even further. While I was outside preparing the laundry, I saw some birds frolicking in the birdbath. At that moment, it hit me. There was no need to worry about my trip. I was reminded my heavenly Father has and always will take care of me.
Working on trusting God in the ordinary helps us to prepare for the big things. I remember when I was diagnosed with cancer, I woke up from a biopsy and the doctor was holding my hand. I was still groggy from anesthesia but heard him tell me I had cancer. I said, "Thank God!" He told me I must not have understood and that the biopsy was positive. I explained to him that I did understand and was grateful that I had a diagnosis. I was thanking God as I knew He would take care of me.
The deliberate focus of discovering signs of God's presence in ordinary life can be powerful throughout the season of Lent. With this mindfulness, I look for God everywhere so I can learn to love God extraordinarily, whether my day is ordinary or not!
Prayer
Good and gracious God, thank You for caring for us, Your children. You always have us covered with Your divine love and power. Teach me to trust You with my will and my life and to always know You are with me. Help me to always accept Your will for me, in Jesus' name, I pray. Amen.
Questions
Recall an extraordinary experience in your life. How did you feel God's love in that time?
Recall a time when you were having an ordinary day and God reminded you of his unconditional love. What Scripture came to mind?
What action will you take on your Lenten journey to remember your daily encounters of God's love?
How will these actions enhance your Easter celebration this year?
Mary Welch is the senior director of affiliate services at Habitat for Humanity International. She is based in the mountains northeast of Atlanta, Georgia.
The day after Easter
It doesn't end at the cross
By Jess Ficatier
Praise be to the God and Father of our Lord Jesus Christ! In his great mercy he has given us new birth into a living hope through the resurrection of Jesus Christ from the dead.
— 1 Peter 1:3, New International Version
Lent is a season full of expectation and anticipation as Christians around the world fix their eyes on the cross, a symbol of sacrifice and promised relationship with God. It's an exciting time, and I love the challenge of creating new habits or maybe, more traditionally, ridding ourselves of old ones. 
But what next? Easter weekend is behind us. After recalling the death and celebrating the resurrection of Jesus, where does that leave us as followers of the risen Christ? 
When families choose to partner with Habitat for Humanity on the journey toward homeownership, they too enter a season of expectation and anticipation. They live in a time defined by preparation and probably some challenges, but all the experiences are worth it because of the hope of better things to come.
Sovann and his family, whom I built alongside in Battambang, Cambodia, had lived for years in a small house where they faced the constant threats of tropical storms and struggled to protect the health of their young children. 
In 2018, Habitat, in partnership with community leaders, began a project to renovate and reconstruct the homes of those most in need in Sovann's village. His family was selected to partner with Habitat, and they began the journey toward a new life in a decent and safe home. 
When Sovann's family moved into their Habitat house, do you think their life looked the same? I doubt it. They looked forward with hope, and their life was transformed, taking on a new trajectory. 
As Christians, our lives must look different, not just during Lent, not just on Easter, but far beyond. We are called to reflect the grace we have been given and the living hope we are born into. This hope brings a newness of life that bears fruit visible to those around us — just as a city on a hill that cannot be hidden. 
In the weeks after Easter, we are reminded that the old is gone and the new is here. Like Sovann and his family, we are living in a new house full of fresh hope and new life.  
Prayer 
Lord, we thank You for the grace extended to us through Christ's sacrifice on the cross and the miracle of new life through His resurrection. Help us to live a life that reflects this truth — a life full of hope and of joy. Lord, when it is difficult to live as a hopeful people, we pray that You will give us courage to trust in Your promises. We are thankful that Your word says You draw near to us when we draw near to You, so, Lord, help us to continue the good practices we have developed over the Lenten season and to actively seek You every day. We praise You, Lord, for the way You are using Habitat to bring hope and new life to the families we serve, and we pray You continue to bless the ministry and all those who are part of it. 
Questions 
What does living in newness of life look like for you? 
What habits or practices did you adopt during Lent that you intend to continue? 
Have you witnessed areas of Habitat's work that have brought new life to a family or a community?
Jess Ficatier is a senior specialist for leadership giving at Habitat for Humanity International's Europe, Middle East and Africa area office. She is based in London, England. 
Global Prayer Partners
Through the Global Prayer Partner program, we invite all who pray, whatever their religion, to join others around the globe in praying daily for Habitat's work. By becoming a Habitat Global Prayer Partner, you will receive a special monthly email with prayer requests for Habitat programs, people and principles.