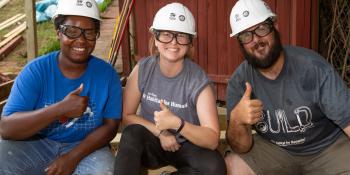 The AmeriCorps experience
In partnership with local Habitat organizations, Habitat places AmeriCorps members to serve in a variety of roles to increase Habitat's ability to build homes, expand services, engage the community and partner with people.
AmeriCorps is a network of national service programs that take different approaches to improving lives and fostering civic engagement. More than 75,000 Americans across the country participate in AmeriCorps each year, tackling various community needs in different ways.
What type of service could I do with Habitat AmeriCorps?
AmeriCorps members provide a unique human resource – motivated, passionate, hard-working people who address important community needs. From direct construction to resource development, explore the ways in which you can serve with us.
Which program is right for me?
AmeriCorps National members serve the community in direct service and capacity building activities. AmeriCorps National roles include:
AmeriCorps VISTA members are Volunteers in Service to America who perform indirect service to build capacity and sustainable solutions. AmeriCorps VISTA roles include: