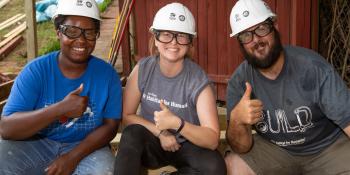 The AmeriCorps experience
In partnership with local Habitat organizations, Habitat places AmeriCorps members to serve in a variety of roles to increase Habitat's ability to build homes, expand services, engage the community and partner with people.
AmeriCorps is a network of national service programs that take different approaches to improving lives and fostering civic engagement. More than 75,000 Americans across the country participate in AmeriCorps each year, tackling various community needs in different ways.
What type of service could I do with Habitat AmeriCorps?
AmeriCorps members provide a unique human resource – motivated, passionate, hard-working people who address important community needs. From direct construction to resource development, explore the ways in which you can serve with us.
Which program is right for me?
AmeriCorps National members serve the community in direct service and capacity building activities. AmeriCorps National roles include:
Construction crew leader

Plays an integral part in leading volunteers to build and repair more homes.

Community outreach coordinator

Plays a critical role in strengthening relationships through planning, coordination and implementation of projects in partnership with the community.

Deconstruction coordinator

Assists with the management and execution of deconstruction programs, assisting with demolition of structures in order to reuse and recycle materials as a green alternative to landfills.

Family services coordinator

Builds and maintains the pipeline of homeowner families by leading efforts to recruit and educate qualified families for both homeownership and home repair opportunities.

Volunteer service coordinator

Helps recruit, train, schedule and recognize volunteers while growing the volunteer base and advancing individual and group partnerships.
AmeriCorps VISTA members are Volunteers in Service to America who perform indirect service to build capacity and sustainable solutions. AmeriCorps VISTA roles include:
Construction systems development VISTA

Creates, documents and implements a plan to improve construction operations.

Family services development VISTA

Researches and implements a plan for homeowner family recruitment, tracking, scheduling and support with the goal to improve the overall experience for participants.

Project development VISTA

Develops and implements new programs, creates or improves policies or procedures, and develops strategies to build leadership and leverage resources that increase the number of families served through the Habitat mission.

Resource development VISTA

Creates, documents and implements a plan for donor engagement, tracking and recognition in order to increase the overall donor experience and donor buy-in to Habitat's mission.

ReStore development VISTA

Researches and implements best practices for standard ReStore operating policies, using marketing plans and volunteer program development.

Volunteer services development VISTA

Develops, documents and implements a plan for volunteer recruitment, tracking, scheduling and recognition in order to increase the number of volunteers and improve the overall volunteer experience.
"Basic housing helps reduce poverty and alleviate hunger – it's a chain reaction. And it's a change that I want to be a part of."
— Jarrell Howell, Habitat AmeriCorps alum