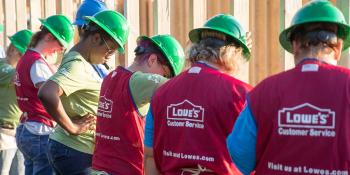 Lowe's supports Habitat for Humanity
Lowe's relationship with Habitat for Humanity International has helped to build hundreds of homes across the United States. Since 2003, Lowe's has contributed millions of dollars and countless hours of volunteer support to Habitat for Humanity.
2003
Co-sponsored the Jimmy Carter Work Project, which built 92 homes in Georgia and Alabama.
2005
Event-wide sponsor of Habitat's Jimmy Carter Work Project in Michigan. Sponsored a house in Benton Harbor and Detroit, and provided a $2,000 store credit for each of the 230 homes being built.
Provided $10,000 for each Michigan affiliate constructing a Women Build house.
Sponsored Much to Celebrate, More to Build. The event marked the milestone of Habitat's 200,000th and 200,001st houses in Knoxville, Tennessee, and Kanyakumari, India.
2006
Partnered with Habitat's long-term Gulf Coast rebuilding plan, Operation Home Delivery.
Donated building materials for two homes and 60 framing packages in New York City. Donated six framing packages in Jackson, 
Mississippi and Los Angeles, California.
2006-2007
Co-sponsored Women Build's two-year First Families Building Homes Across America initiative.
2008
Sponsored Habitat's inaugural National Women Build Week, which featured more than 150 U.S. Habitat affiliates hosting a one-day build. More than 6,000 women volunteers participated during the week in all 50 states.
2009-2010
Lowe's committed $1 million each year to National Women Build Week as part of its current five-year pledge to Habitat.
Ongoing
Lowe's offers free how-to clinics for Women Build affiliates giving volunteers the chance to learn construction basics through extensive hands-on opportunities. Lowe's also contributes competitive grants to affiliates conducting Women Builds and other Habitat builds.
Lowe's and Women Build
In 2009, Lowe's renewed its commitment to Habitat with a five-year partnership agreement. By 2013, Lowe's will have contributed nearly $40 million to Habitat for Humanity.
"Lowe's involvement with Women Build is much more than a financial arrangement—it is a reflection of our commitment to address the nationwide issue of substandard housing. We are helping to build homes everyone can take pride in—our employees, the volunteers, the partner families and the communities." — Larry Stone, chairman of Lowe's Charitable and Educational Foundation.
First ladies Karen Baldacci, Janet Huckabee and Patsy Riley working on a Women Build house
Lowe's and Habitat's local affiliates
Lowe's is here to help. If you are a Habitat affiliate and would like to acquire Lowe's support for your organization, contact www.lowes.com/habitat.
Local Lowe's stores can help in many ways, including:
How-to clinics to help Women Build volunteers become more comfortable around tools and job sites.
In-kind and product donations for use in Habitat build projects or ReStores.
Ideas for building a relationship with local Lowe's store managers:
Provide a tour of your job site and/or ReStore.
Inquire about Lowe's Heroes- a company-wide employee volunteer program aimed at preventing unintentional home injuries.
Take advantage of Lowe's commercial programs.
Tap into Lowe's expertise.
Use your local Lowe's as a resource.
Let Lowe's assist your leadership.
Proactively get Lowe's involved on your build site.
Be pleasantly persistent, but be sensitive to the fact that the retail business can be fast-paced and demanding. Feel free to stop by the store to talk to the store manager, schedule a meeting for another day or make a brief request.
Learn more about Lowe's
For more information, visit www.Lowes.com/community.
Please donate now
Families who partner with Habitat for Humanity are extremely grateful for your help.