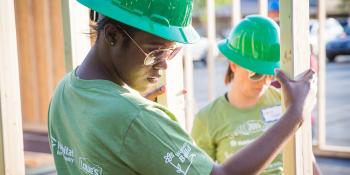 Women Build
Coming together to build stronger, safer communities.
Since 1991, Women Build volunteers from all walks of life have come together to build stronger, safer communities.
Our Women Build events provide the opportunity for women to take a proactive step in serving their communities.
Women Build opportunities are available across the U.S., and any woman who wants to learn how to build and construct a home is invited to join us. No experience is necessary. Volunteers work under the guidance of construction professionals, and also alongside other volunteers and future Habitat homeowners. Whether you are learning new skills or simply adding a few to your tool belt, this is a rewarding experience for all involved, and improves the community that you share.
Women Build is also a terrific way to involve your friends and family of all ages in crucial work with a lasting impact. Women helping women sends a positive and powerful message. You can also come alone, and make new friends. The atmosphere is collaborative and friendly.
Are you ready to build with us?
Find out if a Women Build is happening near you
There are several ways you can get involved
Learn new construction skills needed to effectively contribute to Habitat's mission.
Build or renovate houses at a Women Build event.
Join other community volunteers and homeowners to build strength and stability through shelter.
Search for your local Habitat to find out if a Women Build is occurring near you.
Learn about Women Build's international work.
Join an international Women Build trip with Global Village.
Organize a Women Build event through your campus chapter. Contact us to learn more.
Donate to Women Build.
Frequently asked questions
Are men allowed?
Yes, men are welcome. In fact, the future homeowner or part of the training staff may be men. Women Build provides a place for women to learn the skills needed to build a home, but that does not exclude men from participating.
Does Women Build work internationally?
Yes, even though ownership and property rights for women can be particularly challenging in some countries. Through Women Build, we can increase our advocacy efforts on these important issues while collecting valuable information which demonstrates the many benefits of female ownership. We are also partnering with several nongovernmental organizations to assist in giving these women a voice. Learn more about our international work.
How does Habitat empower women?
Our goal with Women Build is to empower women to help families build strength, stability and independence. We at Habitat have the ability to provide opportunities for hands-on learning, and given these tools, women can succeed in changing their communities.
Donate now
Every donation makes a difference.
Women Build contact information
Mailing address
Habitat for Humanity International
Women Build program
121 Habitat Street
Americus, GA 31709
USA